Baghdad, Iraq — With a new Iraqi government in place, Iran is positioning itself to play a major role here at a time when American influence is showing signs of faltering.
That is worrisome to Iraq's Arab neighbors, especially Sunni-dominated countries such as Saudi Arabia and Egypt. But it also raises serious questions for Washington, including the wisdom of withdrawing entirely from Iraq when it has long been considered the eastern defense against Iranian expansion.
Concerns about Iran have simmered since the March 2003 U.S.-led invasion of Iraq removed a Sunni-dominated dictatorship and set the stage for democracy - or, inevitably, Shiite rule in a country where Shiites hold an overwhelming majority.
Those issues have now come to the fore because of Iran's confrontational stance over its nuclear program. In effect, Iran's recent robust behavior in Iraq serves to remind Washington that it has its own cards to play - including influence among Iraqi Shiites - if the Americans threaten Tehran militarily over its plans to enrich uranium.
Iran has wasted little time in moving to shore up ties with the new government that took power last month in Baghdad. Iranian Foreign Minister Manouchehr Mottaki flew to Baghdad on Friday, where he was warmly welcomed by Iraq's new leadership, including not only Shiites but also Sunni and Kurdish politicians.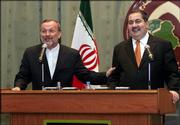 In addition, work already has started on a multimillion-dollar international airport near the Shiite holy city of Najaf, financed mostly by a low-interest loan from Iran. The airport is designed to serve Shiite religious pilgrims visiting Najaf's shrines and provide a major boost to the economy of Iraqi's impoverished Shiite south.
All that is alarming to the Middle East's majority Sunni Arab governments - including Jordan, Egypt and Saudi Arabia - which long have feared Iranian influence among Shiites throughout the Persian Gulf because it could undermine pro-American regimes in the oil-rich region.
Last year, Jordan's King Abdullah II warned that Iran wants to create "a Shiite crescent" that would disrupt the balance of power in the region. The Saudi foreign minister gave similar warnings.
Egyptian President Hosni Mubarak then outraged Shiites across the region this year when he said that Iraqi Shiites were more loyal to Iran than to their own country.
Arab governments fear a bleak future in which Iraq either descends into civil war or ends up closely allied with Iran.
As long as substantial U.S. forces remain in Iraq, those dark scenarios seem unlikely. But prospects for a long-term U.S. presence here look shaky as American public opposition to the war grows.
If the Americans leave, the Iranians are waiting in the wings.
It is unlikely, however, that Iran would take a high-profile role, given the ambivalent feelings that most Iraqis, even Shiites, hold toward their eastern neighbor after a bitter 1980s war that killed an estimated 2 million people.
Sunni Arabs deeply distrust Iranians and consider Shiite politicians little more than Iranian agents. Rumors circulate widely that Iranian intelligence agents direct death squads in Baghdad.
Copyright 2018 The Associated Press. All rights reserved. This material may not be published, broadcast, rewritten or redistributed. We strive to uphold our values for every story published.