Exercise podcasts and workout music playlists? That's so last season. Fitness fanatics soon will be able to make their shoes talk to their iPods.
Call it the AirPod. Or the iNike.
Nike Inc. said last week that it was teaming up with Apple Computer Inc. to make a shoe that helps runners keep track of their speed, calories burned, pace and distance using an iPod.
The Nike+iPod Sport Kit contains a sensor and receiver that allows a new line of Nike shoes to communicate with an iPod nano over a radio frequency. A computerized voice acts as a personal coach, telling runners how they're doing.
After a good sweat, exercisers can connect the iconic MP3 player to a computer to transfer workout data to a new Web site, Nikeplus.com.
For extra inspiration, coaching sessions from famous athletes such as marathon runner Alberto Salazar and sporty music mixes will be available on the iTunes Music Store.
"Nike+iPod will change the way people run," Nike Chief Executive Mark Parker said.
Apple Chief Executive Steve Jobs added, "The result is like having a personal coach or training partner motivating you every step of your workout."
One new shoe, the Nike Air Zoom Moire, will cost about $100 and is compatible with the $29 kit, which is expected to debut in U.S. stores within two months.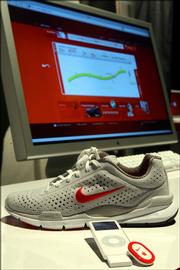 Nike said it planned to offer six more iPod-ready shoe styles this fall.
The Beaverton, Ore.-based company also plans to introduce a line of workout clothes and accessories geared toward the iPod nano and the Nike+iPod Sport Kit.
The shoe already has one serious fitness buff on board: Lance Armstrong, the seven-time Tour de France champion who is training for the New York City Marathon.
"It will take working out to a whole other level," Armstrong said.
Since Apple debuted the MP3 player 4 1/2 years ago, the Cupertino, Calif.-based company has sold more than 50 million devices.
The iPod also has spun off a $1.4 billion industry devoted to accessories, including iPod-compatible car speakers and a toy dog that dances to iPod tunes. What's next, an iPod sensor for the fridge to head off those late-night snack attacks?
'And i ran... I ran so far away...'
The retro A Flock of Seagulls tune soon will be among those available to power your running workouts, with the new Nike+iPod Sport Kit. The co-branded kit comes with a sensor that fits inside compatible Nike footwear - sold separately - and a wireless receiver that attaches to the iPod. Data on running time, distance, pace and calories burned can be stored on the iPod, which then can display the information on-screen or deliver it audibly through headphones. After each workout, the data also can be sent automatically to a personal runner's log at the new Nikeplus.com Web site whenever the music player is synchronized to Apple's iTunes program. The iPod also will incorporate a new "Power Song" feature, so that a user instantly can queue up a piece of music for extra motivation - "Born to Run" anyone? - with the push of a button.
Copyright 2018 The Lawrence Journal-World. All rights reserved. This material may not be published, broadcast, rewritten or redistributed. We strive to uphold our values for every story published.