Indianapolis — Maybe, just maybe, the 90th Indianapolis 500 could have had a more exciting ending Sunday.
All it would have taken was a brutal block from precocious rookie Marco Andretti, and Sam Hornish Jr. could have employed his emergency backup plan.
"I was going to drive over him if I had to," Hornish said. "It didn't matter.
"Anything in between the walls and up to the walls, against the walls : I needed to go wherever I needed to go, and the thing was so fast off the corner, I don't know if he had enough time to react."
A sun-drenched, sweat-soaked crowd of a quarter-million barely had time to grasp the notion that for the first time since 1969, an Andretti might win Indy, and a 19-year-old Andretti at that.
But then this. : Whew.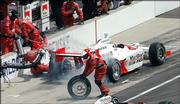 This was Hornish, the pole-sitter - whose team made the mistakes it had preached all month about avoiding - storming back to atone for those errors in a most dramatic fashion. He powered through the final corner, timed his run perfectly, darted to the inside wall and shot past by a car length just before Andretti reached the checkered flag.
Never before had the 500 been won with a last-lap pass, and only once - when Al Unser Jr. held off Scott Goodyear by 0.043 of a second - had the final margin been smaller than the 0.0635 of a second that separated Hornish's Dallara-Honda from Andretti's.
"He ran 219 mph on used tires," team owner Roger Penske said, noting that Hornish gobbled up Andretti's 1-second lead with a final lap that was 5 mph faster.
"When it's time to go, I think you got to hand it to him. He is a fantastic oval racer. At the end, the driver won this race."
Penske knows a thing or two about winning Indy, having earned a record 14 rings with 10 drivers, dating to Mark Donohue's in 1972. Hornish, on the other hand, knows more than he cares about losing them.
The 26-year-old from Defiance, Ohio, had already claimed more Indy Racing League trophies (14) than anyone else, as well as the championship in 2001 and 2002.
Hornish would have traded all of those, though, for one Indy 500. He saw Danny Sullivan spin and win in 1985 and soon began dreaming of the day he, too, would wear the wreath and sip the milk while donning the Penske colors.
In six previous tries, one with PDM, three with Panther Racing and two with Penske, Hornish had never gone more than 196 of the 200 laps or finished better than 14th.
"Last Sunday afternoon, I was furious with myself because I went out there and put the car in the wall," said Hornish, who crashed his backup car on the final full day of practice. "It took me a little while, probably until Lap 199 7/8 when I crossed the finish line before I got the confidence back in myself for going out there and doing that. All the problems that you have along the way make it so much sweeter.
"I can't put it into words exactly what it means to me, but it's the best day that I'll ever have as far as my career goes."
Hornish didn't necessarily have the best car all day. In fact, he played it cautious early when the handling wasn't quite right, allowing defending champion Dan Wheldon to run off and lead a race-high 148 laps.
The winner didn't have the best luck, either.
As Wheldon was about to beat Hornish off pit road with 49 laps to go, Penske told Hornish, "go, go, go," but his fueling hose was still engaged. By the time Hornish stopped, the rig was ripped in two, and fueler Chris Seaman was rolling on the ground. And when Hornish served his drive-through penalty, he touched tires with rookie Townsend Bell, who had committed a similar infraction.
"Probably the first thing that came to my head is, 'I can't believe this is happening,' " said Hornish, who fell to eighth. "The second thing that came to my head is, 'The last two years I put the car in the wall, so I better shut up and not say anything.' "
So Hornish just put his head down and drove, conserving fuel and hoping for a caution that would put him in striking distance again. It came with 10 laps to go, when Felipe Giaffone slapped the second-turn wall.
Copyright 2018 The Lawrence Journal-World. All rights reserved. This material may not be published, broadcast, rewritten or redistributed. We strive to uphold our values for every story published.