Standing in a shade-filled grove at Oak Hill Cemetery on Saturday, Megan Smith read about the man who gave all he had to her Girl Scouts.
"Mr. Bromelsick wanted to give something back to the community," she read out loud. "And he has done so, many times over."
Every year, Girl and Boy Scout troops and 4-H members gather at Alfred Bromelsick's gravesite in the cemetery to pay tribute to the Lawrence bachelor who left his fortune to the three groups more than 50 years ago.
Scouts said that this year's recognition is especially important, as troops celebrate the 50th anniversary of the purchase of Hidden Valley Camp, which the Bromelsick trust helped to buy.
This year, 12-year-old Megan and her Troop 642, along with other Girl Scout troops, played host to the ceremony. Scouts read from prepared notes while 4-H members and local Boy Scout troops stood around Bromelsick's headstone, heads bowed in respect.
The moment of Memorial Day reflection offered youngsters a lesson, organizers said - not a lesson in death, but a lesson in remembrance.
Standing in a patch of sun and bright green grass in Memorial Park Cemetery across the street, Jordana Arnold considers the day in a different light.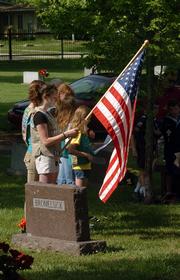 She's a leader in multiple Scout troops and knows that many of her Girl Scouts are simply too young to have experienced a death in their immediate families, she said.
So once a year, remembering Bromelsick helps the girls learn what it means to respect those who came before them.
"That's part of why we're here," she said. "So they can start to understand."
In many ways, Arnold said, people have lost the tradition of keeping the memories of the dead in their homes and daily lives.
After all, Memorial Day is sometimes called Remembrance Day - a time to remember the fallen and all they gave to the world.
So on Saturday, organizer Cindy Riling, one of the last few remaining from the event, stood by Bromelsick's grave.
She said that the day gives the Scouts and 4-H members a sense of what it means to honor the man who helped the community so much.
"Without this," Riling said, "we might have just forgotten where that money came from."
Copyright 2018 The Lawrence Journal-World. All rights reserved. This material may not be published, broadcast, rewritten or redistributed. We strive to uphold our values for every story published.