It took all of one successful round and the first double-digit, 18-hole result of the season, played at Eagle Bend, to make greed rear its ugly head and convince me that I really was too good to participate in a group called The Duffers.
Man, was I wrong.
For nine holes at Orchards Executive Golf Course, I was awful, but still had a good time, and I plan to return when my schedule allows.
The Duffers have been meeting at 5 p.m. on Wednesday evenings for the past 13 years. How do you become a Duffer? Show up and tell them you'd like to participate and go inside to pay the green's fees. If you come back, great. If you don't, no sweat. You're always welcome, according to founder Chuck Mead Sr.
He selects that evening's teams by separating the golfers according to their abilities into A, B and C groups. If there are five groups that day, a golfer from each group selects one of the five playing cards in his hand and joins that group. If it grows to 10 groups, he'll hold 10 cards.
The nine-hole course has four par-four holes and five par-three holes. The Duffers' game on this particular evening called for a scramble format (everybody hits from the best shot throughout the hole) on the par-fours, plus the ninth hole, and for the rest of the par-threes, two of the best three scores are put down on the card.
Photo Gallery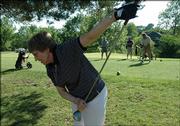 Roughing it with The Duffers
In theory, my team had an advantage because we had four players and every other team had three. It didn't quite work out that way - I didn't contribute a single drive, and everyone else did, including Lois Mead, Chuck's wife, who recently returned to golf after a 10-year hiatus.
Her husband tried for a while to convince her to rejoin The Duffers. She told him she would if more women could be recruited to the group. Chuck obliged, and Lois returned.
"I really missed it the 10 years I didn't play," Lois said. "We used to always go to the same restaurant after we were done. It was right up there at the top of the hill. Oh, what was the name of that again?"
The Brass Apple?
"The Brass Apple, that was it," she said.
Sandra Watson can't play these days because she had back surgery March 8. She enjoys the social aspect of The Duffers so much she walks the course anyway, serves as scorekeeper for her group, earns a $1 tip and can be counted on to ask the same question every week at the end of play: "Where are we going for dinner?"
Margie Coleman wasn't in our group. Thankfully, her husband Archie was. My guess is his back still hurts from carrying us around the course.
Tip
By Alex Eichman
If you want to take your chances with the 90-percent-air rule, based on trees being 90 percent air, swing away and hope that your shot doesn't get knocked down by branches. If you prefer to give yourself the best chance of hitting a good shot, there are a couple of adjustments you can make to de-loft the club. First, after you grip the club, put your hands in front of the golf ball. Play the ball back in your stance, which would be toward the right foot for a right-handed player. Also, slowing down your swing will help you to hit it lower.
- Tipster Alex Eichman is the head pro at Alvamar Golf Club. He can be reached at aeichman@alvamar.com
The beauty of The Duffers is the ever-changing lineup and the low-pressure feel of the gang. Plus, you never know when a celebrity might show up. Chuck Mead Jr., son of Chuck and Lois and vocalist/guitarist for the popular country band BR549, played recently. Chuck Sr. golfs with a salty old BR549 cap, and a BR549 necklace hangs from Lois' neck.
Chuck's pickup truck and Lois' sports utility vehicle rested next to each other in the Orchards parking lot off of Bob Billings Parkway. They had identical plates: BR549.
The Meads enjoy golfing as much as they enjoy pickin' and grinnin'.
"After my mother died, my father took up the game at the age of 81 (11 years ago), and I think it's been great for him," Lois said from her seat on a bench under a tree. "We were sitting here one day, and a squirrel wet on him from up there."
That didn't turn him off to the game. And a bad shot here or there doesn't deter Lois from participating in The Duffers, which had dwindled into near extinction over the years and is making a comeback.
Words of wisdom
"When I die, bury me on the golf course so my husband will visit." - Unknown
Moves out of town, deaths and divorces took their toll, but the group is growing again.
"We're trying to get as many women involved as we can," Lois said. "It's a social event for everybody, and everybody gets a chance to contribute."
Each golfer contributes $1 toward the greenies prize money and $2 toward the winning team prize money. The prizes are awarded, and then The Duffers, new friends and old, head off to dine together.
This week in golf:
Hole
No. 1, Eagle Bend Golf Course
Par: 4. Yards: 410 (championship tee)
Repairs are complete, and this opening hole is back at full length to challenge the hurried golfers who didn't leave themselves time to work out the kinks on the driving range. The ideal tee shot is to the right of the center of the fairway to set up an approach shot, but don't go too far right, or it will end up in the trees. The left side juts forward and is forgiving for those who tend to leave approach shots short.
Copyright 2018 The Lawrence Journal-World. All rights reserved. This material may not be published, broadcast, rewritten or redistributed. We strive to uphold our values for every story published.