Summer in Lawrence will now be a fairer fight.
Mother Nature tried to use a nice, big slap of 90-plus-degree temperatures with some muggy gusts of wind to remind area residents that Memorial Day weekend marks the unofficial start of summer.
But hundreds of people struck back Saturday afternoon with a splash.
The Lawrence Outdoor Aquatic Center, 727 Ky., officially opened at 1 p.m., and the sights and sounds were typical.
Kids climbed onto their parents and adult friends in the pool's shallow end. Some begged to be body slammed or dunked into the 85-degree water.
Jorica Rapada stood by the ladder near the 4-foot level trying to signal her friend, who was swimming away.
Photo Gallery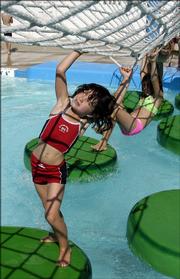 Pool opening
"I'm got darker already," Jorica said of her tan.
Earlier this week, she finished eighth-grade at South Junior High School, and she hadn't planned to come to the pool until Memorial Day on Monday.
"My friends were coming here, and because of the weather," she said. "I"ll probably come here like three times per week this summer."
Then she made a shallow dive into the water to join her friend.
Plenty of adults were catching some rays outside the pool, while youngsters splashed around or waited in line to scoot down the slides, jump off the diving board and climb the obstacle course.
The toys at the pool - renovated 10 years ago - offer something for everyone and create a family atmosphere, said Jimmy Gibbs, the city's aquatics manager.
"It's always good to finally get it open and let everyone in here," Gibbs said. "We seem to have a lot of first-time visitors. It's good to have people from out of town.
"There's also the same little kids that we see year after year," he said.
Within about two hours, pool employees had given away almost all of their 500 free hot dogs for the first mass through the gate.
Isaiah Boldridge, who finished fourth-grade at Pinckney School this week, was munching on his hot dog topped with ketchup while he sat in the shade.
He and his cousin, Marquez White, who will be a fourth-grader at Deerfield School next year, had taken a break from jumping off the diving board and using the yellow drop slide in the deep end.
The higher temperatures and the end of school had Marquez itching to come to the pool where he has spent much of the past three summers, he said.
"By my house I had an outdoor pool, but this is better because of the diving board and slide," he said.
Gibbs said Saturday appeared to be a conventional day for a busy holiday weekend. He expects about 100,000 swimmers at the outdoor pool this summer. The pool will be open daily from 1 p.m. to 8:45 p.m.
"More people will be coming here on Monday," Jorica Rapada said.
Copyright 2018 The Lawrence Journal-World. All rights reserved. This material may not be published, broadcast, rewritten or redistributed. We strive to uphold our values for every story published.