Old toys seem more imaginative than new ones, even though they are often not considered safe by today's standards. In the early 1900s, lithographed tin toys, especially those made in Germany, were popular. Many had moving parts, a comical look, bright colors and sharp edges. Today collectors keep old toys away from young children for safety reasons and to avoid damage. One major firm that made the toys is George Kellerman of Nuremberg. His company opened in 1910 and is still in business. The mark CKO was put on many of its toys. Kellerman's company made clockwork and friction cars and motorcycles, penny toys and accurate model cars. From 1954 to 1979, Kellerman made a series of 1/35th-scale toys called the "Rollo Series," which is popular with today's collectors. Look for any toys marked CKO. The mark is a mystery to many.
Q: My mother was given a hand-painted majolica letter holder in the early 1930s. The back is marked "Minghetti Italy." Any information?
A: Angelo Minghetti and Son, founded in 1849, was a majolica factory in Bologna, Italy. Its pieces were marked with an AM monogram. It is likely that your letter holder was made by a successor of that firm. The fact that it is marked with the country name in English ("Italy" rather than "Italia") indicates that it was made for export.
Q: I have had an old dog tag for years. It's 1 1/2 by 1 1/4 inches and appears to be hand-etched. There's a man's name on it, the letters U.S.N.R.F. and two dates: 5-29-18 and 3-25-99. On the back there's an etched fingerprint. Is this a tag worn by a soldier? I have had it since well before 1999.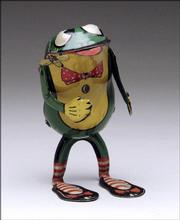 A: Your dog tag matches the kind issued to U.S. Navy enlisted personnel during World War I. U.S.N.R.F. stands for U.S. Navy Reserve Force, which was founded in 1915. Dog tags were first required in the Navy in 1917. The two dates on the tag are the sailor's date of enlistment (May 29, 1918) and date of birth (March 25, 1899). The back of the tag is etched with the print of the sailor's right index finger. The tag is an interesting World War I collectible.
Q: My sister's boss left her some of his personal belongings, including an autograph book that belonged to his wife. She was a Montgomery Ward hat model in the 1930s in New York City. The 29 autographs in the book include several famous actors, such as Leslie Howard, Ginger Rogers, Pat O'Brien and Edward G. Robinson. How should we go about evaluating the autographs?
A: Many autograph dealers are interested in old autograph books because the original collector usually gathered the autographs by sticking the book right under the signer's nose - a method that guarantees the autographs are authentic. However, since the book you're asking about came to your sister through the collector's husband and you don't know for sure how the autographs were collected, the first thing to do is to contact a reputable dealer or appraiser who can authenticate the signatures. This expert will look at the signatures, ink, paper and general condition of the autographs to judge whether the autographs are real. Meanwhile, protect the book from bugs, sunlight, water or other damage by storing it properly.
Q: I paid $5 for a tarnished silver bowl at a local flea market. When I cleaned it up I could read the marks on the bottom: "International Silver Co., The Drake, Chicago." What can you tell me about it?
A: The International Silver Co. was incorporated in 1898 in Meriden, Conn., by several well-established American silversmiths. By that time, the American hotel industry was already a big market for sturdy silver-plated wares. But Chicago's famous Drake Hotel didn't open until 1920, so your bowl wasn't made earlier than that. Hotel silver was designed to be durable. It was usually made with several layers of plating over a heavy nickel base. Seams were often soldered. Hotel silver is collected for its appearance, usefulness and historical interest. Many collectors use it every day. You paid a bargain price for that piece.
Q: We inherited a wooden armchair from my husband's great aunt. The paper label on it reads "Grand Ledge Chair Co." When did the company work?
A: Grand Ledge Chair Co. was in business in Grand Ledge, Mich. (about 12 miles west of Lansing), from 1883 to 1981. The company manufactured chairs and rockers in many styles, from Golden Oak to Mission to Colonial Revival. It used paper labels starting in the middle of the 20th century. The public library in Grand Ledge has an archive of the company's catalogs.
Tip: Look at your home from the viewpoint of a trespasser. Do bushes hide the windows or doors? Are ladders lying around? Can a window be reached by standing on a table or air-conditioning compressor? Does your fence hide the burglar from view while he breaks in?
Current prices
Current prices are recorded from antiques shows, flea markets, sales and auctions throughout the United States. Prices vary in different locations because of local economic conditions.
¢ ABC plate, "Mary Had a Little Lamb," embossed scene, tin, 1870s, 8 inches, $55.
¢ Janet Leigh paper doll, dresses by Janet, 2 dolls, Leigh-Mor, 1958, 6 pages, uncut, $75.
¢ Pressed-glass nappy, Starburst and Fans pattern, scalloped edge, c. 1900, 6 inches, $90.
¢ Bathing suit, right-side drape, Catalina, 1950s, large, $140.
¢ Limoges oyster plate, shell design, gold trim, 1891-1900, 8 1/2 inches, $325.
¢ Movie poster, "How to Marry a Millionaire," Marilyn Monroe, 1953, 27 x 41 inches, $445.
¢ Political ticket, McKinley Inaugural Dinner, admit one, one dollar, 1897, 4 x 2 inches, $515.
¢ Toonerville Trolley candy container, glass, Depot line, 1922, by Fontaine Fox, 3 1/2 inches, $560.
¢ Louisiana cypress and pine ladderback chair, child's, turned finials, 3 molded splats, turnip feet, c. 1880, $995.
¢ Newcomb College art pottery tankard, blue and green glaze, tall pines, inscribed "The Tree of the Deepest Root is found Least Willing to Quit the Ground," marked, 1905, 6 inches, $2,270.
Copyright 2018 The Lawrence Journal-World. All rights reserved. This material may not be published, broadcast, rewritten or redistributed. We strive to uphold our values for every story published.