OKLAHOMA CITY — Nebraska advanced to Sunday's championship game of the Big 12 Conference baseball tournament, using a five-run second and six-and-two-thirds innings of scoreless relief for a 6-5 victory over top-seeded Texas on Saturday.
Cornhusker designated hitter Nick Sullivan had a three-run home run during the big inning, and Ryan Wehrle added a run-scoring double and Brandon Buckman an RBI single to erase a 2-0 Texas lead.
The Longhorns got run-scoring singles from Chance Wheeless and Kyle Russell and an RBI ground out by Preston Clark to tie the game at 5 in the third.
The Cornhuskers scored the eventual winning run in the seventh when Buckman singled, went to second on a wild pitch and scored on a single by Andrew Brown.
Nebraska's Tony Watson (10-1) relieved starter Johnny Dorn during the third and threw 51â3 scoreless innings for the win. Brett Jensen took over for Watson with two on and two out in the eighth and got the final four outs for the save.
Texas reliever Austin Wood (4-3) took the loss.
Baylor 5, Texas Tech 3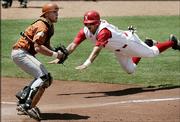 Baylor's Beamer Weems hit a three-run home run as the Bears scored four unearned runs in the sixth inning and held on to beat Texas Tech.
With the victory, Baylor (35-24) finishes pool play 1-2, while Texas Tech (31-26-1) went winless in three games.
Baylor's Kevin Sevigny opened the sixth by reaching base on an error, then advanced to third on a base hit by Tim Jackson and scored on a single by Chase Gerdes.
Following a strikeout, Weems hit his seventh home run of the season to give Baylor a 5-1 lead against Red Raider starter and losing pitcher Colt Hynes (5-3).
Baylor's Cory VanAllen (7-5) went six innings, giving up seven hits while striking out two and walking one for the win and Nick Cassavechia got out of a two-on, one-out jam in the ninth his eighth save of the season.
Oklahoma 21, Oklahoma State 6
Oklahoma run-ruled Oklahoma State in seven innings. The Sooners (40-19) finish pool play 1-2, while the Cowboys were 0-3.
Copyright 2018 The Associated Press. All rights reserved. This material may not be published, broadcast, rewritten or redistributed. We strive to uphold our values for every story published.