Baghdad, Iraq — An Iraqi tennis coach and two of his players were shot to death this week in Baghdad because they were wearing shorts, authorities said Saturday, reporting the latest in a series of recent attacks attributed to Islamic extremists.
A U.S. Marine AH-1 Cobra helicopter, meanwhile, crashed Saturday and its two crew members were missing in Anbar province, a volatile area west of the capital where insurgents are active. Hostile fire was not suspected as the cause of the crash, the U.S. military said.
Athletes targeted twice
In the Baghdad incident, gunmen stopped a car carrying the Sunni Arab coach and two Shiite players, asked them to step out and then shot them, said Manham Kubba, secretary-general of the Iraqi Tennis Union.
Extremists had distributed leaflets warning people in the mostly Sunni neighborhoods of Saidiyah and Ghazaliyah warning people not to wear shorts, police said.
"Wearing shorts by youth are prohibited because it violates the principals of Islamic religion when showing forbidden parts of the body. Also women should wear the veil," the leaflets said.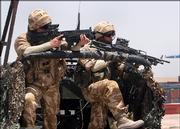 No one claimed responsibility for the slayings, which come amid worries that Islamic extremism is spreading in the war-torn country.
Sunni cleric Eid al-Zoubayi denounced the attack.
"Islamic religion is an easy religion and it allows wearing sport shorts as long as they don't show the forbidden parts of the body, so the acts that are targeting the sport are criminal," he said.
It was the second incident involving athletes in just over a week. Fifteen members of a taekwondo team were kidnapped in western Iraq while driving to a training camp in neighboring Jordan on May 17.
More than 30 people were killed in attacks across Iraq on Saturday, including four who died when a bomb in a parked car exploded near a busy bus station in southern Baghdad. Seven people also were wounded in the blast, which bloodied passers-by and damaged a local restaurant.
U.S. soldier deaths
As of Saturday, at least 2,466 members of the U.S. military have died since the beginning of the Iraq war in March 2003, according to an Associated Press count. The British military has reported 111 deaths; Italy, 31; Ukraine, 18; Poland, 17; Bulgaria, 13; Spain, 11; Slovakia, Denmark, three each; El Salvador, Estonia, Netherlands, Thailand, two each; and Australia, Hungary, Kazakhstan, Latvia, Romania, one death each. The most recent death reported by the military: Marine Lance Cpl. Kevin A. Lucas, 20, Greensboro, N.C.; killed Friday in Anbar province; assigned to 3rd Battalion, 8th Marines, 2nd Marine Division, II Marine Expeditionary Force, Camp Lejeune, N.C.
U.S. Marine killed
The Marine helicopter went down while on a maintenance test flight and search and rescue efforts were under way for the missing crew members, the U.S. command said in a statement.
"We are using all the resources available to find our missing comrades," said a Marine spokesman, Lt. Col. Bryan Salas.
The U.S. military also reported that a Marine was killed Friday by "enemy action" in Anbar province. The death raised to at least 2,466 the number of U.S. military personnel who have died since the Iraq war started in March 2003, according to an Associated Press count.
Iraqi politicians continued to bicker over candidates for the key defense and interior ministry posts, leaving Prime Minister Nouri al-Maliki's government incomplete a week after it assumed office.
"We hope the agreement will be reached within two or three days," Sunni politician Adnan al-Dulaimi told reporters. "I think that to linger and take some time in choosing the ministers is better than rushing into it."
Filling the two posts is a contentious matter, especially after the recent surge in sectarian violence.
Political parties have agreed that a Sunni will lead the Defense Ministry, which controls the army, and a Shiite will run the Interior Ministry, which oversees police forces. But they are struggling to find a consensus on who should get the jobs.
A senior Iranian official visited Iraq's Shiite holy cities of Karbala and Najaf, where he met with Shiite spiritual leader Grand Ayatollah Ali al-Sistani and radical anti-U.S. cleric Muqtada al-Sadr.
Control may be transferred
Also Saturday, a senior U.S. military official said coalition forces could begin transferring security control over some Iraqi provinces to civilian authorities and police by the end of summer, but Baghdad would not be handed over before the end of the year.
The military official, who spoke on condition of anonymity because of the sensitivity of the issue, estimated that provisional control could be handed over to local governors in the relatively peaceful provinces of Najaf, Karbala and Babil by fall.
Saturday in Iraq
In other developments Saturday, according to police and hospital officials: ¢ Two roadside bombings in Baghdad killed four policemen and wounded five people. ¢ Gunmen and Iraqi soldiers fought at a checkpoint west of Baghdad, killing a teacher caught in the crossfire. ¢ A former Iraqi army colonel and his nephew were fatally shot near Baqouba. ¢ In Baqouba, drive-by shooters killed four policemen and one civilian, while masked gunmen killed four workers and wounded another at a metalworking shop. ¢ A policeman was shot to death and two officers were wounded north of Tikrit. ¢ A man suspected of belonging to Saddam's former Fedayeen militia was slain west of Mosul. ¢ The body of a man who had been shot in the chest was found floating in the Euphrates river near Hillah. ¢ Gunmen stopped a minibus carrying college students from Mosul, killing one of the students.
Copyright 2018 The Associated Press. All rights reserved. This material may not be published, broadcast, rewritten or redistributed. We strive to uphold our values for every story published.