Pete Ramler's listening skills, management insights and goal-oriented directions are helping Tina Neal increase sales, expand markets and improve efficiency.
Sales at Neal's company are up 25 percent from a year ago, putting the operation on track for at least another $1 million in revenue - all of it, she says, coming from a game plan Ramler helped her recognize, formulate and execute.
Thanks, coach.
"The payoff's huge," said Neal, who hired Ramler as an executive coach a year ago. "I love to compare what he's doing to a personal trainer in fitness. You can do the sit-ups. You know how to get on the treadmill. But he sets the goal. And he counts for you.
"He makes you accountable."
Neal, vice president for Coordinated Systems & Supplies Inc. in Lawrence, is among 18 names on Ramler's client roster at Elevation Coaching, the Lawrence-based business that helps employees, managers, corporate executives and business owners make the most of their time at work.
Since founding the business four years ago with three clients, Ramler has extended his expertise to customers from Lawrence to Topeka and Overland Park.
Elevation's own growth comes as the executive-coaching industry continues to build strength, generating an estimated $1 billion a year for advice, individual attention and goal-oriented plans. The International Coach Federation, based in Lexington, Ky., serves more than 10,000 members - up from 2,300 seven years ago - in what it describes as one of the fastest-growing professions.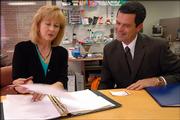 "Everybody that I work with has a really good vision of what they want their business to do, but a lot of times it's so far down the road, or it's so overwhelming, that they don't know where to start," Ramler said. "We break it down into manageable pieces so that they can move toward their ultimate goals."
Learning on the job
Executive coaching wasn't on Ramler's mind in 1991, when he graduated from the University of Iowa with a bachelor's degree in elementary education. His teaching career soon led him to Lawrence, where he taught algebra and geometry at South Junior High School before leaving to join the trust department at Mercantile Bank and, three years later, moving on to Keating & Associates, where he would spend three years as a financial planner.
It was there - while offering investment and savings advice for clients - that he discovered the value of executive coaching. His own boss had been working with a strategic coach out of Toronto, and had used the advice and concepts to make the company's offices operate more efficiently, with happier employees and more satisfied clients.
Ramler did his homework and soon discovered that doing such business coaching would play to his own strengths.
"It's like making lesson plans for adults," Ramler said. "That's the part I liked about teaching: working with students to get better. And it translated over very easily into working with business owners and executives into helping them get better."
Plans into action
Clients who hire Ramler receive an initial consultation, during which Ramler learns the basics of a business - including cash flows, gross sales, corporate structure and staff capabilities - and starts to understand the client's place in the operation. Also important are the client's short- and long-range goals.
Ramler then puts together an action plan, targeting goals that can be readily measured. The focus is on results.
Ramler meets twice a month - either by phone or in person - with each client, checking on progress, listening for ideas, and further developing ways to get everything accomplished.
"They're all very good at what they do," Ramler said. "They just don't always have time to step back and analyze what's going on. That's one of the things I help bring to the table: helping them take a break and think about what they want to have happen."
Branching out
Neal, who joined Coordinated Systems 15 years ago and became a co-owner 10 years ago, couldn't agree more. When she hired Ramler a year ago, she was working 70 hours a week, not eating lunch and barely stepping away from her computer that overlooks Massachusetts Street.
"I was stuck," she said. "I felt like I was digging myself deeper and deeper and deeper. I couldn't get out."
Then, after talking with Ramler, she discovered that their sessions kept leading to a common thread: the departure two years earlier of a key employee, who had moved to Anthony to be with her new husband. The move had left Neal consumed with nonsales tasks for which she had little desire.
"I told him, 'I wish I could just pick up the office and move it down there,' " Neal recalls telling her coach. "And he said, 'Why can't you?'"
Today Jennifer Wolff is back on the payroll at the printing-and-promotions company, running the company's satellite office in Anthony and managing its two largest clients, together worth $1.5 million annually. With Neal focused once again on sales, Coordinated Systems will be expected to surpass $5 million in revenue for the first time this year.
Neal, meanwhile, now manages to eat out occasionally, walks around the block at least once a day and has cut 10 hours off her work week.
"It's just been tremendous," Neal said. "Finding the right person for the job - wow!"ditor Mark Fagan can be reached at 832-7188.
Copyright 2018 The Lawrence Journal-World. All rights reserved. This material may not be published, broadcast, rewritten or redistributed. We strive to uphold our values for every story published.