Cannes, France — A culture-clash drama, a quirky portrait of strong women, a harrowing imprisonment story, an unnerving fairy tale and a saga of unheralded World War II heroes were among contenders for top honors at the Cannes Film Festival.
The Cannes jury led by Hong Kong director Wong Kar-wai had a wildly eclectic field of 20 contenders to choose from for tonight's awards at the world's most prestigious film festival.
Prospects for the Palme d'Or, the key prize at the 12-day festival, included:
¢ Pedro Almodovar's "Volver," starring Penelope Cruz in a comic drama about sisters coping with family strife and the ghostly return of their mother from the grave;
¢ Alejandro Gonzalez Inarritu's "Babel," with Brad Pitt and Cate Blanchett in a multicultural tale spanning three continents and five languages;
¢ Israel Adrian Caetano's "Buenos Aires 1977," based on the true story of an Argentinean soccer player wrongly imprisoned and tortured;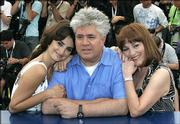 ¢ Guillermo del Toro's "Pan's Labyrinth," a disturbing fantasy about a girl who meets an ancient, horned satyr that offers her a chance to escape the harsh reality in fascist Spain in 1944;
¢ and Rachid Bouchareb's "Days of Glory," a war chronicle of North African Muslims who fought in Europe to free France from the Nazis.
World War II veterans from North Africa joined the cast and crew on the Cannes red carpet at the "Days of Glory" premiere, their presence putting the glamor and prestige of festival prizes in perspective, director Bouchareb said.
"The men who were with us last night fought on the coast here," Bouchareb said the day after his film's premiere, pointing out the ritzy Mediterranean beachfront at Cannes. "We won our prize last night."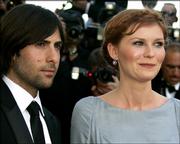 Other possibilities were Nuri Bilge Ceylan's "Climates," a domestic drama about a couple's deteriorating relationship, and Andrea Arnold's "Red Road," a voyeuristic tale of a woman maintaining surveillance on a man responsible for a tragedy in her past.
Hotly anticipated movies from American filmmakers premiered to mixed receptions or critical disdain. Cannes crowds found Richard Kelly's sprawling "Southland Tales," with Sarah Michelle Gellar and Dwayne "The Rock" Johnson in an apocalyptic black comedy set in the near future, self-indulgent and incomprehensible.
Richard Linklater's "Fast Food Nation," featuring Greg Kinnear, Bruce Willis and Patricia Arquette in a consumer satire based on the best-selling book, earned lukewarm admiration.
Sofia Coppola's "Marie Antoinette," starring Kirsten Dunst as the gluttonous royal beheaded in the French Revolution, received applause and boos, some critics disliking its modern depiction of the queen as a misguided party girl.
Still, Cannes judges are unpredictable. The nine-member Cannes jury, which includes actors Samuel L. Jackson, Helena Bonham Carter, Tim Roth, Monica Bellucci and Ziyi Zhang, could just as easily pick a critical dud as an audience favorite.
A Palme d'Or for Coppola would make her the first child of a previous Cannes winner to earn the top prize. Her father, Francis Ford Coppola, won in 1979 for "Apocalypse Now."
Coppola said her father told her, "'I want to see you win a Palme d'Or.' I said, 'Well, I'll try, but let's not count on it.' I don't expect with my first movie in competition to get that kind of thing.
"But some day, it would be fun to win a Palme d'Or. I remember coming here with my dad during 'Apocalypse Now.' Cannes has such a history. I think that's such a high honor. It's exciting when you see someone win the Palme d'Or."
For all the forecasting among Cannes veterans, festival jurors often overlook front-runners. Last year's "The Child," a gritty social drama from Belgian filmmakers Jean-Pierre and Luc Dardenne, was a dark-horse winner over such festival hits as Jim Jarmusch's "Broken Flowers" and David Cronenberg's "A History of Violence."
"Babel" director Inarritu was asked at a news conference about his chances of winning, after Cannes audiences gave a rousing reception to his drama.
His answer: "My philosophy is low expectations and high serenity."
Copyright 2018 The Associated Press. All rights reserved. This material may not be published, broadcast, rewritten or redistributed. We strive to uphold our values for every story published.