Helen Herchell was nearly 19 and Skip Harrell was 26 when a Justice of the Peace married them in Raton, N.M. Their honeymoon was the ride home in a black '51 Ford, back to Clinton where both had been raised. Rose-covered cottages were not in their budget, so they moved in with Skip's father, who welcomed his son's help on the dairy farm.
Helen was not long out of Overbrook High School, and Skip was just back from a four-year hitch in the Air Force.
That was Feb. 24, 1956.
Last month the Harrells, 69 and 76, celebrated their anniversary with food, friends and family at the Douglas County 4-H Fairgrounds. They had been looking forward to this banquet for a long time.
"We didn't have a wedding cake, we didn't have a wedding reception and for our 25th we had a small thing with the family," Helen said, looking serious. "And, we've always said if we make it to our 50th we'd have our reception and lots of cake."
Many - 277 - signed the guest book and indulged in the buffet, and there was enough cake with heavy, white chocolate frosting to feed 100 more.
"There were lots of people there that we didn't expect to see," Helen said. "Like old friends who had moved to California, Texas, Florida ... Virginia."
Audio Slideshow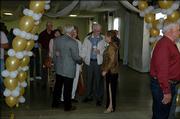 Couples: Skip and Helen Harrell's 50th Wedding Anniversary
But the squeals and hugs and laughter rolling up and down the line of well-wishers were as enthusiastic for the locals as for out-of-towners.
The Harrells' three children - Twilla Brown, Cheryl Suitt and Mike Harrell - and their families anchored one end of the long receiving line while Skip and Helen embraced their friends.
After dinner came serious conversation, the kind when heads get closer, voices become softer and the night's last cup of decaf is savored.
Skip is a retired farmer who sometimes helps his son Mike in the fields, "But if the sun is shining and the winds not blowing, you'll find me in a boat on Clinton Lake," he said.
Helen, who still fishes occasionally, said, "We only eat two kinds of fish: baked or skillet-fried walleye and crappie, the filet mignon of fish."
She retired from Kansas University 11 years ago and occasionally helps in Hy-Vee's catering department on 23rd Street, where daughter Twilla works.
Any regrets about eloping?
"I was set on having a Presbyterian wedding in a church," Helen said. But when they got to Raton, they had one hour to get married before the courthouse closed, making the marriage official.
Why the rush?
"Skip had told my mother what he had planned, down to the day," she said.
In Clinton, good news traveled fast.
Before the Harrels returned home, Helen's mother was in Clinton's Presbyterian church when a parishioner, Myrtle Kampschroeder asked if she had a new son-in-law.
Her reported reply, delivered without a smile: "I'd better have."
Copyright 2018 The Lawrence Journal-World. All rights reserved. This material may not be published, broadcast, rewritten or redistributed. We strive to uphold our values for every story published.