He didn't want his job to feel like work.
That's why Jimmy Gibbs considers his post as manager of the Lawrence Aquatics Division the perfect fit.
"I try to manage just how I would want to be managed," Gibbs said. "I've always said when my job becomes a job, I'll find something else to do because it will be no longer fun."
City leaders hired Gibbs in 2000 in the middle of construction of the Lawrence Indoor Aquatic Center. He's the first and only full-time manager of the department, which now has a $1.4-million budget.
It's now a year-round job to run the indoor pool, the Outdoor Aquatic Center, the wading pool at South Park and the Carl Knox Natatorium.
Swimmers dived and splashed on Saturday at the outdoor pool, 727 Ky., to open it for summer. Gibbs expects 100,000 swimmers this season.
Recently, dressed in a neat white polo shirt and black slacks, he gave a tour of the outdoor pool and its grounds and talked about his first few years living and working in Lawrence.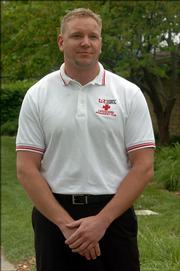 "One thing about my job - I'm working with a multi-million-dollar aquatics budget, and the next day I'm teaching 6-year-olds how to swim. That's cool," he said.
Gibbs had to help build the division that once employed 20 lifeguards during the summer to between 225 to 250 now.
He grew up in Abilene and says he can easily trace his interest in swimming and recreational activities.
"I was one of those little kids that lived at the pool every summer," Gibbs said. "I was exposed to the whole recreation concept and saw people having fun at work."
He earned a bachelor's degree in parks and recreation administration from Kansas State University. His mission now and then is to "work so other people can have fun."
He spent a year as recreation director in the tiny city of Syracuse, near the Kansas-Colorado border. He also worked for a private company in Garden City and for parks and recreation in Salina before he was hired in Lawrence.
"Lawrence just seems to be a very fresh community. There's always something going on downtown. It is also just very clean, and I think people take a lot of pride in this community and it shows," he said.
As for the future, Gibbs says right now the city has no immediate plans to build any new pools, but down the line, he hopes another neighborhood pool can be built.
He focuses on managing his seven full-time employees, serving the 250,000 people who swim per year in Lawrence, helping lead programs and lessons and hiring and training lifeguards.
"We are a very visible part of the community, and that can bring some challenges," he said. "But overall, it's been just a very good experience to learn what the needs of the community are."
Jimmy Gibbs
Title: Manager, Aquatics Division, City of Lawrence Hometown: Abilene Education: Bachelor's degree in parks and recreation administration, Kansas State University Moved to Lawrence: 2000 Job Description: Supervises seven full-time employees, hundreds of lifeguards and four city swimming facilities; manages a $1.4-million budget; teaches swimming lessons to 6-year-olds. When he's not working: Relaxes at Clinton Lake with his friends and his retired racing greyhound, Bo. Why he chose the profession: "I thought it was cool to do stuff outside and with other people and basically work so other people can have fun." Thoughts about no major accidents or injuries at Lawrence pools since he took over: "That's pretty much a testament to staff training and prevention." What is one major issue facing Lawrence today? Making sure adequate parks and green space fit into the city's growth for the several years. "Hopefully building good relations with builders and developers and putting forth a mindset that a draw of our community is parks and aquatics and the things that we like here in Lawrence."
Copyright 2017 The Lawrence Journal-World. All rights reserved. This material may not be published, broadcast, rewritten or redistributed. We strive to uphold our values for every story published.