When Lawrence residents pitched in to build a $600 bandstand in South Park, the Daily World newspaper marked the occasion with a short story.
"The structure when completed will be the finest improvement ever made in a park in Lawrence," the paper said. "It will be permanent and the band boys will not be compelled to raise money again for a new stand during the present generation."
They probably had no idea that bandstand would still be standing - and still used for band concerts - 100 years later.
As the bandstand celebrates its centennial this month, it continues to be both a multi-functional structure and a Lawrence landmark.
"The fact that it has served so well for 100 years really impresses me," says Robert Foster, who directs the Lawrence City Band. "To have built something that substantial and that useful and that permanent, I think, is really remarkable."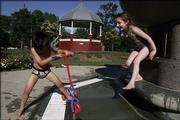 The beginning
The bandstand - known by many as the South Park gazebo - was a project of Buch's Band, a Lawrence musical group formed in 1878 that continued to perform into the early 1900s. It was led by John Buch, who taught wagon-making at Haskell Institute.
According to Elfriede Fischer Rowe's book "Wonderful Old Lawrence," the band had 28 members by 1900.
Though concerts were temporarily halted following the flood of 1903, they were going weekly again on Friday evenings by 1906.
The bandstand, which stands 30 feet tall, cost $600 to construct, not counting the locally manufactured bricks, which were donated to the project.
No one knows for sure who designed the structure, though some have speculated that the plans were purchased from a magazine advertisement.
It was finished in May 1906 and dedicated during a concert on June 8. The program consisted of a combination of marches, overtures and medleys.
The crowd - "a large and appreciative audience," the Daily World noted - bought enough ice cream and drinks to donate $35 to the bandstand project.
"The concert last night demonstrates the fact that the people want entertainment," the paper noted.
'Era gone by'
The bandstand remained in use until the 1940s, when the concerts were halted during World War II.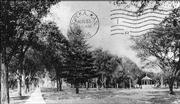 An architectural survey of the bandstand completed by a Kansas University student in 1966 noted that its condition began to deteriorate during that time.
"While the adjacent park and planting areas have been adequately maintained, the bandstand seems to have been neglected," Paul West wrote. "A considerable amount of settling has occurred on the east side of the structure resulting in the deformation of several of the base walls. And while the roof seems to be in good repair, the wood members of the supporting structure are in need of paint.
"Unfortunately the bandstand is no longer in use and now stands as a reminder of an era gone by."
Solid structure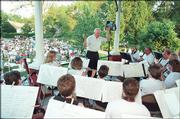 Since then, the structure's condition has improved significantly. It's received a new floor (which also serves as the roof for the storage area under the band platform), and has been re-roofed and repainted several times.
"It's like a small fortress," Foster says. "Those bricks were put there to stay."
Mark Hecker, parks superintendent for Lawrence Parks and Recreation, says aside from some roof leaking a few years back, the bandstand is in good condition.
Time marches on
1854 Lawrence settled; many original residents brought musical instruments and started a city band. 1878 John Buch, a wagon-making teacher at Haskell Institute, forms a brass band. It initially has 10 members. 1900 Buch's Band has grown to 28 players, with a variety of instruments. 1903 Concerts by Buch's Band temporarily halted by flood of 1903, in part because electricity was out in town. May 1906 - Bandstand in South Park completed by Buch's Band. They raised $600 for the project and secured donated bricks. June 8, 1906 - Band plays first concert at new bandstand to a "large and appreciative audience," according to the Daily World. 1940s - Band concerts temporarily halted during World War II. 1960s - Bandstand, which is not in use, has deteriorated in condition, according to a report by a Kansas University architecture student. 1969 - Bill Kelly takes over direction of the Lawrence City Band, and concerts are moved to South Park permanently. Bandstand is refurbished. 1988 - Structure is formally named the "William L. Kelly Bandstand." 1992 - Kelly hands over City Band baton to Robert Foster. 2006 - Bandstand celebrates its 100th anniversary.
"It's held up through a few wind storms through the years," he says. "It stands tall even when the trees around it fall."
The key to the bandstand's permanence, he says, is that it is in the heart of Lawrence, in a park that was established just a few months after the city was founded in 1854.
"I think it's just in such a prominent spot in the city," he says. "It's one of those things that's right in the middle of the city, so you can't let it go downhill. Everyone will notice."
A constant
Today, the bandstand still is used for its initial purpose. The City Band performs eight concerts a year during the summer, drawing thousands to South Park.
But it gets even more use as a wedding locale and event location. Last year, it was formally reserved for 56 events other than band concerts, mostly weddings and wedding rehearsals.
In 1988, the bandstand was named for William L. Kelly, who directed the City Band from 1969 to 1992. Kelly died in 1998.
His widow, Barbara Kelly, keeps several paintings, sketches and photographs of the bandstand in her house.
"I think it looks very good," she says. "I like the steeple, the way it curves to the top. And I like the metal shingles."
Kelly says her husband shared her love for the structure. She figures Lawrence will celebrate the bandstand again in another 100 years.
"They're not going to get rid of it," she says. "People still like it."
Another Lawrence resident with fond memories of the bandstand is Clyde Bysom. He played his first concert there in 1929 as a member of the local Boys Band; he continued to play in the City Band until he retired last year.
"It looks pretty much the same," Bysom says, "except there was a small trap door that would open up from the floor, and you'd climb the stairs there and close the trap door. They put that new (concrete) floor in and now you use the outside steps."
Bysom, 88, said band concerts drew big crowds in the 1920s and they still do today.
He credits the success, in part, to the bandstand.
"It really is built pretty solid, and with the renovations it's in good shape," Bysom says. "It's quite an icon."
City Band performances
The Lawrence City Band's summer concerts are at 8 p.m. Wednesdays at the William L. Kelly Bandstand in South Park and rebroadcast at 6 p.m. Sundays on KLWN, 1320 AM. ¢ Wednesday: "Centennial Celebration of the South Park Bandstand," featuring a variety of music, including "The Silver Gazebo" by James Barnes and "Thunder," the NASCAR theme. ¢ June 7 - "Classics for a Summer Night," featuring some of the music played during the first concert at the bandstand in June 8, 1906, and Barbara Ballard singing "Summertime." ¢ June 14 - "Flag Day," flag-related music with soloist Kevin Bobo on xylophone. ¢ June 21 - "First Day of Summer," with guest conductor Col. Arnald D. Gabriel and guest tenor soloist Genaro Mendez. ¢ June 28 - "Heritage and Tradition," featuring guest conductor Capt. Keith Bland of the U.S. Air Force. ¢ July 5 - "Fourth of July Concert," patriotic music with soloist Kim Murphree on "God Bless America." ¢ July 12 - "Children's Concert," with trumpet soloist Steve Leisring. ¢ July 19 - "Season Finale," featuring traditional music such as the "1812 Overture" and "Stars and Stripes Forever."
Copyright 2017 The Lawrence Journal-World. All rights reserved. This material may not be published, broadcast, rewritten or redistributed. We strive to uphold our values for every story published.