No one ever said starting college was easy. With each decision comes a laundry list of questions for nervous beginners: Where do I live? What should I pack? What's worth the money? Kansas University students have some words of wisdom to ease the transition.
Getting around
Lucas Lux, Topeka freshman, has the best of both worlds with a moped and a car.
"I brought my moped up because I just wanted to get around campus, but I think, at least for the first semester, freshmen should just walk to class - I think it's just part of the experience of being on campus," Lux says. "But after walking - I brought my moped up so I could get about 15 minutes of extra sleep every morning that I was using on walking."
The benefits of a moped allow Lux to access campus any time of the day while also being an economical answer to rising gas prices. When he's not cruising around on his moped, Lux uses his car to get around town and visit home.
"I can go home pretty frequently to do laundry, and it's a good relationship with the mom," Lux says.
Meanwhile, Janet Getz, St. Louis freshman, avoids the gas gouge by getting around campus and town without a car.
"I'd say don't bring a car because between the high gas prices, the microburst and the hail damage that we've had this year, I've saved a lot of money," Getz says. "If I did have a car I would be out all the time and not get anything done."
In addition to gas and vehicle maintenance, permits are required for parking on campus or in residence housing lots. Moped permits are $25 annually and $15 per semester. Car permits are $140 annually and $75 per semester.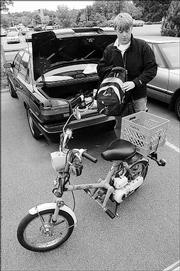 Candice Cesare, Lawrence sophomore, says her bus pass served her well freshman year, but now she chooses to walk.
"I lived at home so I used Park and Ride - I had to do it because I didn't want to walk all the way down from the Lied Center to campus," Cesare says. "I think it's better for freshmen, too, just because it stops in front of the main buildings so it's easier access for them and they learn the buildings."
KU on Wheels, a Student Senate-endorsed bus system, runs to and from campus while classes are in session. It costs $1 per ride, students also can purchase a bus pass for $130 annually or $75 per semester.
Bike
Katrina Mohr, a junior from Boulder, Colo., prefers an environment-friendly mode of transportation: her bike.
"It is the perfect way to get to places that are a little too far to walk, but silly to drive," Mohr says. "I wish I would have had my bike freshman year because I would have had more freedom - many places were more than half an hour walk, and unless I could find a ride, I felt like I was limited to a certain area."
It's recommended students register bikes with the Lawrence Police Department for a fee of 25 cents. Most residence halls offer a rack to keep bicycles, yet KU Police recommends locking bikes through the frame or wheel with a U-lock.
And your address is...
Going "Potluck"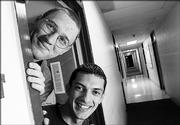 Freshmen John Ready, of Dallas, and James Keeton, Wichita, share a room in Oliver Residence Hall. The two went "potluck" and found a friendship.
"Before we moved in together we had only talked on the phone once or twice, so I had no idea of what the person I was going to live with would be like," Ready says. "It turned out that we were both very different but still became good friends."
Keeton has a similar sentiment on his living situation.
"I learned how different people are here and how diverse it (college) is," Keeton says. "You never know exactly what might happen, what kind of connection you will want with this new friend of yours."
"While it has been fun, I will say that sharing a 12-foot-by-12-foot cube with another human being for nine months can get kind of annoying," Ready says. "But you learn to get by these things, and that's an important life lesson."
Residential hall living is available to all KU students and can house more than 3,500 students. The cost of living, not including a meal plan, is between $2,752-$3,928 based on a 10-month lease (source: www.tuition.ku.edu).
The "Schol" Hall
Of all the living options, Melissa Cooper, Doylestown, Pa., freshman, chose to live in a unique environment conducive to academics: Sellards Hall.
"I knew that it was a community where things would be more academically focused and a place that would provide a large sense of community and belonging," Cooper says. "I also wanted the opportunity to get to know 50 other women as we worked together to keep our hall running smoothly."
Cooper knew it was a fit from the beginning.
"From the first day, when the exec board members of my hall unloaded my car and climbed the two flights of stairs to my room carrying all of my belongings, I knew that I had made the right choice," Cooper says.
Students must apply and be selected to live in a gender-specific scholarship hall, maintaining community living among residences. An average scholarship hall housing plan can cost anywhere between $3,684-$3,884 based on a 10-month lease with meals (source: www.tuition.ku.edu).
Going greek?
Phil Linville, Mission Hills freshman, believes greek life is a package deal promoting academics, friendships and a sense of community.
"I can honestly say that my decision to go greek has been one of the best," he says. "It's hard to pinpoint what it is that makes greek life so great because it truly is the total experience, but if I had to choose I would say it's the smaller university feel."
Meanwhile, Hilary Kelman, Shawnee sophomore, didn't think greek life was for her and found other means of involvement on campus.
"Go ahead and check it (greek life) out," Kelman says of potential members. "It just didn't seem like it was for me, but I'm all for anyone who wants to do it. There's so much to do, there's so many organizations that you should be able to find a fit."
Fees among greek chapters vary. Women pay an average of $1,660 their first year as a new member. As a live-in member average cost is $5,300, which includes housing, meals and chapter dues. No average cost was given for fraternities (source: www.kugreek.org).
Beak 'Em Bucks
Casey Yingling, Andover freshman, couldn't have survived her first year without Beak 'Em Bucks, the stored-value account for students.
"You can take one card with you to school and you can spend your parents' money - you don't have to worry about having cash in class," Yingling says.
Beak 'Em Bucks is an online account students or parents can activate and recharge with a variety of amounts. The account is available on KU identification cards and can be used anywhere on campus for food and services. This includes campus dining, Union services and laundry at residence halls. A number of local merchants have signed on to accept Beak 'Em Bucks for 2006.
The Essentials
Computer
Lisa Moore, Parsons sophomore, recommends a laptop as a study essential for optimum mobility.
"It's portable, and you can get wireless Internet on campus and in certain places so it's easier to write papers in the library or other places and still have it on your files," Moore says.
KU Police recommends engraving a computer; students can access an engraver at residence hall desks or from the KU Public Safety Office. In addition, students should lock computers to table or desks for maximum security. Locks can be found online or at local computer retailers.
iPod
Jacque Lumsden, Wichita freshman, believes her iPod was an essential to getting through her freshman year.
"It makes the walk to class a lot shorter," Lumsden says. "I never listen to the radio. I always listen to mine in my car, it's the only thing I listen to - then when you're studying at library, it's a nice thing to have."
Cell phone
Brady Blevins, Hutchinson sophomore, is fortunate enough to have a cell phone, which his parents fund, because it keeps his life simple.
"I don't use my room phone - it's a little bit of a hassle to have to punch in the numbers to be able to get a line out," Blevins says. "Using a cell phone is good, but the first month I moved out here, it was before we had switched over to no-roaming, so our cell phone bill was real expensive. It's a little bit of a hassle, but the parents help me out."
All Sports Combo
Andrew Bowlby, Marion, Ill., freshman, is a Jayhawk fan through and through. His phone even rings the KU fight song. So he's also a huge fan of the All Sports Combo.
"You are able to see all the football games and get a chance to go to all the basketball games - at a reasonable price compared to other Division I schools," Bowlby says. "I plan on getting the pass all four years, and hopefully I can see a championship team."
The All Sports Combo includes tickets to all men's home football and basketball games. For a flat fee of $150 students receive tickets to all football games but must redeem basketball tickets based on venue occupancy.
Copyright 2018 The Lawrence Journal-World. All rights reserved. This material may not be published, broadcast, rewritten or redistributed. We strive to uphold our values for every story published.