In ranking the most powerful people in NASCAR, the sport, it's almost too obvious to start with the people who run NASCAR, the company.
For three generations, that has been the France family. They control NASCAR and its sister company, International Speedway Corporation, and thusly four members of that family are included in the top four positions on That's Racin's annual list of the sport's most powerful.
Joining them in this year's top five are a pair of executives from Fox Sports and two generations from another family with great influence in stock-car racing.
In past years, there have been 25 positions on our list. But as the sport has grown, it has also become more complex. Therefore, this year we're expanding our list to a number that makes more sense for NASCAR - 43, the number of cars that make up the starting field for a Nextel Cup race.
You'll find the top 10 here. For the remainder of this year's list, visit
1 Brian France (NASCAR chairman and chief executive officer and International Speedway Corporation chairman): NASCAR's success makes him not only the easy choice to top this list, but puts him among the most powerful men on the American sports scene. Has no fear of making changes, even big ones.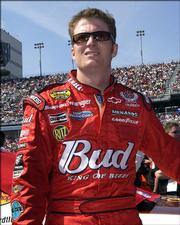 2 Bill France Jr. (vice chairman of NASCAR's board of directors): Even though health issues limit his day-to-day contributions, he still plays an important role when the major decisions are being made.
3 David Hill (Fox Sports chairman and chief executive) and Ed Goren (president of Fox Sports): Hill's vision has been the guiding force as Fox Sports has reshaped the way racing is shown on television since 2001. As Hill climbs other business mountains, Goren's leadership has become particularly vital.
4 Lesa France Kennedy (International Speedway Corporation president and NASCAR board member) and Jim France (NASCAR executive vice president and ISC chief executive officer): Paired again because they attend more directly to the track ownership side of the business at ISC. Both are extremely smart and invaluable to sustaining the France family empire.
5 Bruton Smith (Speedway Motorsports Inc. chairman) and Marcus Smith (SMI executive vice president national sales and marketing): Bruton Smith is approaching his 80th birthday, but he show no signs of taking his foot off his business accelerator. If he ever does, his son Marcus is poised to take the wheel.
6 Mike Helton (NASCAR president), Robin Pemberton (NASCAR vice president of competition) and John Darby (Nextel Cup Series director): The trio who run the competition side of Nextel Cup racing. It falls to them to make the "car of tomorrow" a success and to keep Toyota from wrecking the sport's competitive balance. Failure on either score is not an option.
7Dale Earnhardt Jr. (Nextel Cup driver): Unrivaled popularity means he can go anywhere and do anything he wants in motorsports and sponsors will line up for the opportunity to help him do it. If he ever wins a championship, he'll threaten Brian France for No. 1.
8George Bodenheimer (president of ESPN and ABC Sports and co-chairman of Disney Media Networks): A bit anticipatory, perhaps, since ESPN/ABC doesn't resume NASCAR telecasts until next year. But the wheels are already in motion, and Bodenheimer's networks will change the game again the way Fox and NBC did five years ago.
9 Mark Dyer (NASCAR vice president of licensing and consumer products): He played a key role in bringing the Chase for the Nextel Cup championship format to the sport.
10Gary Forsee (Sprint/Nextel chairman and chief executive officer) and Len Lauer (Sprint/Nextel president and chief operating officer): The handoff of power from Nextel's key executives to these top figures in the merged company is largely complete. If the company is going to fulfill its 10-year $750 million contract, these guys have to continue to be NASCAR fans.
Copyright 2018 The Lawrence Journal-World. All rights reserved. This material may not be published, broadcast, rewritten or redistributed. We strive to uphold our values for every story published.