Up and up and up.
That's what has happened to the Lawrence Virtual School's enrollment since the school's inception.
"There seems to be no end in sight," Lawrence Supt. Randy Weseman said.
The school, which enrolled 167 students in 2004, is expected to enroll 750 for the fall. With those numbers the school would be the largest of its kind in the state, Principal Gary Lewis said.
Already 105 new students have enrolled for the fall, with registration open through July.
Though located at 2145 La., the school functions primarily off-site. For a $97 annual fee, students receive a laptop computer and printer, along with books and school materials. They complete their work off-site and interact with teachers by phone or electronically.
With many parents opting to homeschool their children, the virtual school is a way to draw kids back to the public school system, Deputy Supt. Bruce Passman said.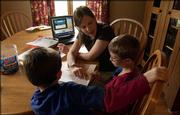 District officials hope the school's growth will translate into financial gain for other programs.
The school was started with a three-year grant that provided $106,000 per year. And it receives per-pupil state aid. For 2005-06, aid was $4,257 per student.
The school essentially broke even in 2005-06, but if the school hits an enrollment of 750 for the fall, the district may start to see financial gain that could benefit other district programs, Passman said.
"As we grow the school and we expand our revenues, it's going to allow us to do some things with the excess revenues," Passman said.
He said he didn't know how those added funds would be spent, but the district has a long list of areas that need support.
Hitting the 750-student mark would make the school big by Lawrence standards. The district's elementary schools range in size from about 150 students to nearly 500 students, while junior high schools have 500 to 600 students.
The school already benefits the district, Lewis said, with programs such as credit recovery for students who need to retake courses they've failed and course acquisition for students who want to take extra courses beyond the typical schedule.
Lewis attributes the enrollment growth to sound curriculum and a dynamic program that offers teaching support and enrichment opportunities to students.
"I'm not going to say that we're better than the others" in the state, Lewis said. "We do an excellent job."
The school has also worked to recruit students from both within and outside Douglas County. The majority, 65 percent, of students come from Douglas, Johnson and Sedgwick counties. But students have also come from as far as Morton County, in the southwest corner of the state.
In the latest report of the K-8 program, 59 students came from Douglas County, 98 from Johnson County and 53 from Sedgwick County. Students also represented, though in small numbers, 23 other counties, including Doniphan, Miami, Reno and Kingman.
The school has expanded steadily since its opening. It opened for high school students in the fall and also expanded to offer credit recovery courses for local students.
The district is capping fall enrollment at 750. That means students who enroll late may not get a virtual seat.
"Going much higher than that would be difficult for us to keep up with," Lewis said.
Weseman said he predicts the school's enrollment will top 2,000 in upcoming years.
"I think it'll end up being one of the biggest virtual schools in the nation," he said.
The school has appealed to parents like Karen Flory, of Lawrence. Flory was independently contracting with K12 Inc. for the homeschooling curriculum before she turned to the virtual school. She paid about $1,600 for the same curriculum that the virtual school offers for much less. And with the virtual school, she said she gets more support.
She keeps in contact with a supporting teacher.
"I'm not a lone ranger," Flory said. "She's there giving me suggestions."
Alexia Oleson, a 9-year-old Olathe resident who is a virtual school student, said she liked the learning materials that the program sends to her at the start of every year. Each student receives supplies, such as test tubes and goggles.
Oleson said she loved the rock collection.
"It's neat," she said. "You can look at them with a magnifier."
There are about 25 virtual schools or programs registered with the Kansas State Department of Education. These programs have differing missions and services. Some are distinct schools, like Lawrence Virtual School. Others are programs or simply course offerings within schools.
Lawrence Virtual School is among the largest schools of its kind in the state. In fiscal year 2005 annual reports compiled on the state education department's Web site, Lawrence reported 165 students. Other major programs are Elkhart Cyber School, which reported 159 students, Wichita eSchool with its 210 students, and Basehor-Linwood Virtual School with 372 students.
Copyright 2018 The Lawrence Journal-World. All rights reserved. This material may not be published, broadcast, rewritten or redistributed. We strive to uphold our values for every story published.