When I first stumbled upon Joan and Fritz Reiber's yard, it was upon the suggestion of a friend who knows I'm always searching for beautiful gardens to profile. The Reiber's front yard is quite lovely, with a trio of white birch trees shielding the home from the street. Variegated leafed irises flank one side of the driveway, pansies grow fat and full under the birch trees and pink dianthus tumble over a rock wall.
What's most surprising about the Reiber's front yard is the ample water garden that anchors the entry patio of their modest split-level home. The waterfall splashes down into a pool of blooming White Hawthorns, tall, pale-yellow water irises and reed grasses. Perched on the patio is a white, iron ice cream parlor chair and table set, positioned perfectly for guests to linger and soak in the aquatic life.
I ring the front doorbell and wait.
From behind the house, I see a petite figure waving at me. This must be Joan. She steps out to greet me in what looks like a beekeeper's hat. Its ear flaps are fastened under her chin, and a wide brim keeps the sun out of her eyes. Her hands are gloved in a part-rubber, part-cotton second skin. She's wearing jeans and a long-sleeved shirt that bears badges of a hard day's work: dirt smudges here and a little pollen residue there.
Joan is no shrinking violet. If there is gardening to be done, you can sense that she will be the first to jump in and do it.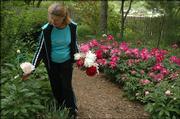 In fact, Joan installed both of the two large water gardens in the couple's yard. She dug and dug, day and night, to create the backyard pond until someone finally suggested using a backhoe. Thank goodness for friends with wise suggestions.
Joan admits to her infatuation.
"I think about my garden in bed. I think about it 24 hours, 7 days a week," she confesses. "I'm constantly changing plants and re-arranging. It takes vigilant experimentation because the garden in ever-adjusting. The neighbors lost a huge Scotch pine, so now suddenly I've got an area that was shady and is now sunny. There is ebb and flow to gardening with the idea that changes are constant."
'The wild look'
Joan Reiber ran the Hilltop Child Development Center's preschool at Kansas University for 20-plus years before retiring in 1993.
Well, maybe retiring is not the right word.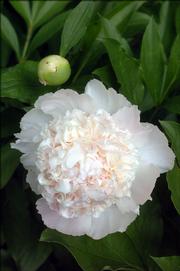 She transitioned to a life of dirty hands and aching muscles, but also the satisfaction of being a gardener extraordinaire. She earned her Master Gardener designation that same year and continues to be a gardening icon among those in the know.
Joan's garden has an untamed look and a carefree air.
"Having been the director of Hilltop for so long and having five children of my own, I'm very accustomed to multi-tasking," she says. "The wild look suits me and my many tasks."
To get around her massive backyard, you need to be nimble. We duck under a Shasta viburnum and crouch around a couple of large boxwoods. Joan has just trimmed these shrubs and, in the process, disturbed a male cardinal and his nest. He is a flash of red, dive-bombing toward us to put an exclamation point on his distaste for her shears.
Favorites
Some of Joan Reiber's favorite plants: ¢ Peonies ¢ Mohawk viburnum ¢ Ruth Ellen dogwood ¢ Magnolia trees ¢ Daffodils ¢ Oak leaf hydrangea ¢ Bleeding hearts
It's all part of the gardening experience, and the 10 bird feeders and countless birdhouses in Joan's yard tell me that she and this angry winged fellow will be back on good terms in no time.
Guided by senses
Some of the greatest displays of color in Joan's yard come from her more than 75 peony plants, mostly in shades of fuchsia, light pink and white. They are plate-sized puff balls sprinkled throughout her garden haven, emitting an intoxicating aroma.
Once the peony blossoms have fallen and her Beauty Bush loses its mesmerizing white blooms, another summer season will have arrived. The butterfly/hummingbird garden that Joan is creating will probably be in full bloom and a focal point then, with its asters, foxglove and, of course, butterfly bush.
The wind chimes clink together as Joan explains her planting style.
"I tend to bunch plants too closely together," she says. "I read the directions, and then I tend to ignore them. Go figure. So I find myself trimming quite often so I can make room to plant under flora that I've crammed into a small space."
Whatever she's doing, it's working. Maybe we all need to forego directions and let the trade winds guide our gardening sense. If it fosters half the success that Joan has had, Lawrence would be the most gorgeous place on earth.
Copyright 2018 The Lawrence Journal-World. All rights reserved. This material may not be published, broadcast, rewritten or redistributed. We strive to uphold our values for every story published.