Dallas — So far in the playoffs, the Dallas Mavericks have pushed around Pau Gasol and outlasted Tim Duncan.
But Steve Nash and an agile big man? They still haven't figured that one out.
With Nash picking up where he left off against his former team last postseason and Boris Diaw filling the role of Amare Stoudemire, the Phoenix Suns erased a late nine-point deficit and beat the Mavericks 121-118 Wednesday night in a thrilling, fast-paced start to the Western Conference finals.
Nash scored 10 of his 27 points in the final 3:26, then set up Shawn Marion on a go-ahead basket with 43 seconds left. After Dallas regained the lead on a jumper by Devin Harris with 4.8 seconds to go, Diaw swished a turnaround 7-footer with a half-second remaining on a play originally designed for Nash.
"I saw their bench basically yelling out exactly what was going to happen, so I was like, 'OK, Plan B," Nash said. "I was about to call timeout, but ... Tim (Thomas) got it inside and Boris made a heck of a play."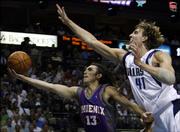 Diaw scored a career-high 34 points, showing on a big stage why he was voted the league's most improved player and why the Suns are back in the conference finals for the second straight year despite having had Stoudemire for only three games.
"At one point there was a label on him that he was a soft, non-competitive player," Phoenix coach Mike D'Antoni said. "I'm telling you he's just the opposite. ... He's one of the most competitive guys we have, just an intelligent basketball player that knows how to play."
Harris scored a career-high 30 and Dirk Nowitzki had 25 points and 19 rebounds, but the Mavericks blew their late lead with a spurt of turnovers and a lack of defensive stops when they needed them the most.
"We were just bad tonight in a lot of different areas that we have to improve on in a hurry," coach Avery Johnson said.
Dallas fans might not be able to take more of these heart-stopping finishes. The Mavericks were coming off a second-round series against San Antonio that included six games decided at the end, including Game 7 in overtime.
One consolation for the Mavs is that they also lost the opener to the Spurs. Another is that Game 2 is in Dallas on Friday night.
For Phoenix, this furious finish stuff is becoming fun.
The Suns lost all seven regular-season games decided by three points or less, then dropped another early in the playoffs. But now they've won two nail-biters.
Copyright 2018 The Associated Press. All rights reserved. This material may not be published, broadcast, rewritten or redistributed. We strive to uphold our values for every story published.