Mi-Ling Stone Poole's decorating career began when she added a little Asian flair to a plain Lawrence apartment.
"I went to Pier 1, bought some bamboo runners and stapled them to the wall," she says. "I created this little world in my apartment. My girlfriends would come over and say, 'What are you thinking? We're trying to survive, and you're decorating.'"
Today, Poole doesn't just decorate her own home - she doles out decorating advice through a newspaper column and regular radio appearances in Oklahoma City.
The Kansas University graduate is having the time of her life.
"It's so much fun," she says. "You feel so fulfilled."
Poole grew up in Minneapolis, Minn., and graduated from KU in 1984 with a degree in journalism. She owned a talent agency in Kansas City during the 1990s and says a highlight was working with KU professor Kevin Willmott on his film "Ninth Street."
But following the sudden cancer death of her brother in 2000, Poole decided to pursue her true passion full-time: writing and talking about home decor.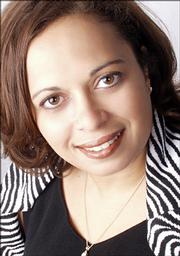 "He said, 'Mi-Ling, you'd better do whatever it is you want to do,'" Poole recalls.
That, she decided, was working in the field of home decoration. The column initially ran in the Edmond Sun in Edmond, Okla., where she now lives with her husband, a physician.
Now, it runs weekly in the Daily Oklahoman in Oklahoma City and in the Kansas City Globe. She also is a weekly guest on a morning radio program.
She recently compiled a selection of columns for her first book, "When You Want the Truth About Decorating" (iUniverse, $12.95).
Overall, she says her decorating style leans toward casual and functional.
"People are wanting comfort now, and they're getting away from that stuffy, overdecorated look," Poole says. "They want to walk into any room in their house, kick off their shoes and be comfortable."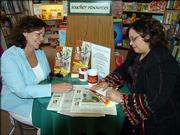 Among her other decorating observations:
¢ Painting a room makes for a fairly cheap way to redecorate.
¢ Homeowners are leaning toward paint instead of wallpaper.
¢ People want rooms to serve more than one function. For instance, the kitchen also needs to be an office where they can plug in their laptop.
¢ Storage and organization is a key factor in most decorating decisions these days.
¢ Flea markets and garage sales often are better locales to find home decor items than big chain stores.
In general, Poole says she wishes people were willing to decorate more boldly.
"I think people are very afraid of color," she says. "They tend to go with the trend, but they need to look at their inner spirit and figure out what they're comfortable with. If everybody went with the trend, there would be a lot of roosters and polka dots out there."
Poole has no formal training in home decoration. She says she'd like to get a degree someday, but she's been too busy with her writing.
"I encourage people to get it (a decorating degree), because I'm sure it's helpful," she says. "But for me, it's been a natural knack."
Copyright 2018 The Lawrence Journal-World. All rights reserved. This material may not be published, broadcast, rewritten or redistributed. We strive to uphold our values for every story published.