Fully aware the difference between an elite sprinter and an also-ran often is measured in hundredths of a second, Free State High track coach Steve Heffernan wasted little time this spring planting a seed in Austin Winn.
During a brief discussion the two shared on the Firebirds' practice track at the outset of the 2006 season, Heffernan didn't talk technique, stride or strategy. His comments had nothing do with the speedster's legs and everything to do with his head.
A simple message: The pupil needed to believe he belonged among the state's top sprinters if he ultimately were going to accomplish that mission.
"That drove me to work harder at practice and become better at what I do," Winn said Wednesday. "That really paid off."
As spring enters the home stretch before turning to summer, Winn has blossomed, just in time to give the Firebirds a dependable scoring threat this weekend at the Class 6A state track meet in Wichita.
Thanks to a strong performance during Friday's regional meet in Olathe - arguably the toughest of the four regionals that fed into this year's state field - Winn has qualified to compete in three events at state: the 100 meters, 200 and 4x400 relay. Expectations are he'll bring back a medal in all three and help keep Free State, the regional team champion, in contention for a state trophy as well.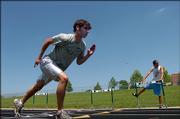 "He's a kid who I think can place pretty high," Heffernan said. "The thing is, in the sprints : the difference between first and fourth is three-hundredths of a second.
"It's really his first time on a major stage at state. Going down to state, you don't know how well people are going to do."
All Heffernan can do is draw upon experience. And the last month tells him the speedy junior is ready to shine.
Both labeled the Seaman Relays on April 28 in Topeka as a turning point. It was there Winn ran his first 200 of the season and promptly set a school record during the preliminaries. He followed up with the same time in the finals, and the ensuing four weeks have featured regular signs of progress in all of Winn's disciplines.
"Since that meet I've just been improving constantly," Winn said. "That was my peak, and it's just been growing from then on."
"As soon as he ran his first 200 : everything fell into place," Heffernan added. "Since then, not only has he improved time-wise, but as a competitor he has really stepped up."
He enters Friday's prelims with a seed time of 10.8 seconds in the 100 and 22.0 in the 200 and will join teammates Keron Toussaint, Andy Neighbors and Shawn James with a time of 3:24.1 in the 4x400 relay. Those times put Winn among the top three in each of those events.
Pressed to pick the one in which Winn has the best shot at gold, Heffernan likes the 200.
"He's still only run it about four times, but he seems to have a lot of ability there, and it should be a good distance for his speed," Heffernan said.
Winn won't be the only Firebird counted on to bring home hardware this weekend. With a boys regional team title in hand - and a runner-up finish by the girls - expectations are high across the board.
Athletes to watch include Alysha Valencia, who is looking to repeat as the state champ in the girls 3,200 and also should figure in the medal hunt in the 1,600 and 800; MJ Hassaballa in the boys 800; Toussaint in the boys 400; Emma Brooke and Brooke Carter in the girls high jump; and Emily Leiker in the girls pole vault.
"I think if we get down there and do what we've done the last two weeks, we should be in top three on both sides," Heffernan said. "The regional that we came through was very tough. They responded so well that they have to have some confidence as we head down there. They've done it when it counted."
Copyright 2018 The Lawrence Journal-World. All rights reserved. This material may not be published, broadcast, rewritten or redistributed. We strive to uphold our values for every story published.