Istanbul, Turkey — A quick-spreading fire burned down most of the cargo section of Istanbul's Ataturk International Airport on Wednesday, forcing 2,000 workers to flee the thick black smoke that closed one runway to traffic and disrupted flights.
The inferno collapsed a large part of the cargo building, likely causing millions of dollars in damage. Three people were treated for smoke inhalation, authorities said.
"Our biggest consolation is there is no loss of life," said Mujdat Yucel, manager of the Havas cargo and ground services company.
Firefighting planes filled with water from the nearby Marmara Sea made more than 70 sorties to douse the flames, flying low and at an angle to avoid a nearby Turkish Airlines building. Dozens of fire trucks also responded, and the blaze was brought under control after more than four hours.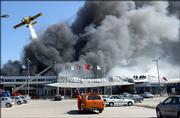 Authorities ruled out terrorism or sabotage and gave various possible causes for the fire, including a spark from a welder's torch or a short-circuit.
"It was definitely not sabotage," said Deputy Gov. Fikret Kasapoglu. "But there are various kinds of materials in there, flammable, explosive, so we have to be careful."
The fire began in a section where fuel depots were located.
However, a hard-line Kurdish group, the Kurdistan Freedom Falcons Organization, claimed responsibility for the fire, the Netherlands-based Firat News Agency reported. The Freedom Falcons are linked to the Kurdistan Workers Party, the main Kurdish guerrilla group.
Government officials refused to comment on the claim.
Copyright 2018 The Associated Press. All rights reserved. This material may not be published, broadcast, rewritten or redistributed. We strive to uphold our values for every story published.