OKLAHOMA CITY — Kansas University broke through to end one ugly streak Wednesday, producing the program's first Big 12 Conference tournament victory.
The Jayhawks hope it's a start to an even bigger breakthrough - an NCAA regional berth.
KU gave its postseason hopes a jolt, jumping No. 13-ranked Oklahoma, 7-2, at AT&T; Bricktown Ballpark.
The Jayhawks came to Oklahoma City as a perceived NCAA bubble team, looking for a quality victory or more to pad their resume.
Getting seven strong innings from starting pitcher Kodiak Quick and banging out 13 hits, KU succeeded in making an early statement. The Jayhawks haven't made the NCAA Tournament since 1994.
"We felt like we had to win a game here,'' Jayhawks coach Ritch Price said. "We felt like we had to beat Oklahoma or Oklahoma State, a big RPI game, to give us some momentum.
"I think if we win one of the next two, we should be a lock.''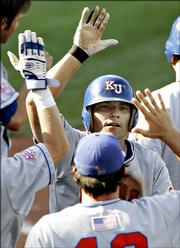 The Jayhawks, 39-23 overall, moved to 1-0 in the pool-play event. After getting today off, they get another shot at a statement game Friday, when they face No. 12 Oklahoma State at 8 p.m.
KU, winner of four straight and six of its last eight, took it to the Sooners from the start.
The Jayhawks led 7-0 through the top of the fifth, when they already had six extra-base hits, including home runs by backup catcher Buck Afenir and center fielder Matt Baty.
Afenir and Baty went deep back-to-back in the fourth. Afenir, called on when Dylan Parzyk pulled a hamstring running to first, drilled a two-run shot to dead center. Baty followed with a blast to left.
OU starter P.J. Sandoval lasted just two innings. Ryan Mottern, the first of four relievers, was struck for four runs in 22â3 innings.
Meanwhile, Quick shut down the Sooners for the second time this season.
"It's nice to know that you've beaten a team before,'' said Quick, who improved to 11-4. "But at the same time, it's a new day, a new game.
"It's a lot easier to pitch when your team puts up seven runs.''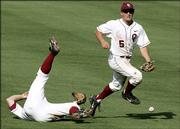 Quick handled the Sooners back on April 30, helping KU salvage the final game of their regular-season series.
This one meant more. Potentially much more.
"I think this is huge,'' Quick said. "It's a step forward, and I think the team's going to continue to have more success the next few years. I wish I wasn't a senior so I could come back for a couple of more years.
"I think this is going to be the first step in a really good direction.''
While the Jayhawks opened the tournament strong, Baylor - another Big 12 bubble team - lost to Nebraska, which could become a factor if it becomes a numbers crunch for conference slots in regionals.
Price, however, said he's not scoreboard-watching.
"I'm not watching at all,'' Price said. "I'm one of those proponents of this conference. I came here so I could coach in a big-time conference. I think it's one of the two best conferences in America.
"And I honestly think all six of us should get in."
Copyright 2018 The Lawrence Journal-World. All rights reserved. This material may not be published, broadcast, rewritten or redistributed. We strive to uphold our values for every story published.