If you want a quality stainless-steel gas grill on your patio to complement all those shiny appliances in your kitchen, make sure to take a magnet with you when you shop.
Cheaper stainless is usually magnetic, so if a refrigerator magnet sticks to a grill, it could be a warning flag. In our tests of gas grills, which include simulated weather exposure, we've found that magnetic stainless is more likely to corrode over time.
But even nonmagnetic stainless steel has its drawbacks, because normal use and exposure will gradually discolor and dull it. To discourage this, experts recommend regular cleaning and maintenance. And keep your grill under wraps when not in use. A cover costs about $30.
You can find a basic-but-decent small gas grill for a little more than $100. Although it may include a side burner, which lets you prepare side dishes while using the full grilling area for the main course, a basic model likely won't have stainless steel or any of the other enhancements found on costlier grills. Spending more (up to $500) will get you a midsized or larger grill that can cook enough for 15 people. Typical features here include longer-warranty burners (coverage up to 10 years, compared with one to five years for other burners); premium grates (those made of stainless steel or coated cast iron, instead of porcelain-coated steel); electronic ignition; a rotisserie or smoker tray; recessed side burners; and a removable pan for catching grease.
Grillers who want a more stylish midsized or large model - one with mostly or all-stainless-steel construction - may spend many hundreds or even thousands of dollars. Features on high-end grills can include more burners generating more heat (and carrying lifetime warranties); a fully rolling cart; better storage; and an infrared burner for better searing. Still, our tests show that spending more than $500 rarely buys you better grilling.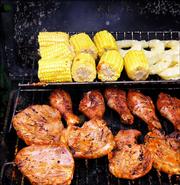 Our tests focused on a grill's ability to cook evenly at high and low settings - assessments made first with temperature sensors and then confirmed on burgers, chicken and fish. We also looked at a model's features, construction and ease of use. After all was seared and done, several grills emerged as CR Best Buys - combining relatively low price with high performance.
¢ Midsized grills. These are best for most grillers. Top rated in its class, the Vermont Castings VM400XBP ($400, from Home Depot) scored "Excellent" in our tests. Yet it lacks such features as side burners and long-warranty burners. The Char-Broil Advantage Series 463453306 ($270, from Lowe's) adds more cooking space, a griddle and better searing, though it lacks a fully rolling cart. Consider the Thermos Stainless 461262006 ($300, from Target) for its mostly stainless construction, fourth burner and generous cooking area and shelf space. The BBQ Grillware GSF-2616 ($200, from Lowe's) features fine searing and long-warranty burners.
¢ Large grills. If you often cook for a crowd, we recommend the Great Outdoors Pinnacle TG-560 ($500, from Lowe's) and the Brinkman Pro Series 4400 810-4400-0 ($300, from Wal-Mart). Both deliver lots of cooking and shelf space for the money. The Great Outdoors has mostly stainless construction, a fifth burner and an infrared burner. The Brinkman trades stainless and some performance for its lower price, but includes free assembly.
¢ Small grills. Three models did very well in our tests. The Weber Genesis Silver A 6711001 ($400), the Char-Broil Quickset 463631705 ($130, from Wal-Mart) and the Fiesta Advantis 1000 EZA30030 ($135) are basic models mostly bereft of features. While the Weber has long-warranty burners, none has side burners or electronic ignition - nor, for that matter, much in the way of stainless steel.
Copyright 2018 The Lawrence Journal-World. All rights reserved. This material may not be published, broadcast, rewritten or redistributed. We strive to uphold our values for every story published.