Photo Gallery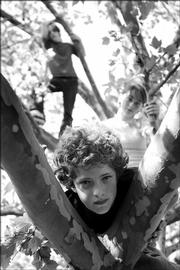 Shadow shooters
A feature picture is a photo that stands alone without a story in a newspaper. In April, a group of camera-toting students in Central Junior High's after-school photography program tagged along with Lawrence Journal-World photographers Mike Yoder and Thad Allender to find feature photos around town.
The after-school program, in its first semester, is taught by Tim Stauffer and an assistant, both Kansas University students, and attracts four to six youngsters every Friday afternoon. It's designed to provide a safe, supervised and inspiring environment for students after the regular school day ends.
At every class, the students get a camera, film and instruction on how they can become better photographers. They often visit community photographers and studios. All their equipment has been donated from local artists and businesses.
With a few exceptions, the photographs that appear on these pages were shot by the students during their visit to the Journal-World.
Copyright 2018 The Lawrence Journal-World. All rights reserved. This material may not be published, broadcast, rewritten or redistributed. We strive to uphold our values for every story published.