Kansas City, Mo. — The radar gun seemed stuck on 99 mph. That's what it clocked Justin Verlander's fastball at in the first inning, and that's what it still read in the ninth.
Quick and overpowering, Detroit's 6-foot-5 rookie right-hander pitched a five-hitter Monday night for his first complete game and shutout in his ninth major-league start. He allowed only one runner as far as second base in leading the Tigers to an 8-0 victory, Detroit's second straight shutout and the 10th loss in a row for the Royals.
"I've never had a starting pitcher throw 99 in the ninth inning," Detroit manager Jim Leyland said. "I've seen some closers throw 99. I've never had a starter throw 99 in the ninth inning before that I can recall."
The Royals, who apparently didn't get much out of a players-only meeting before the game, were equally amazed.
"My last at-bat he was 99 on the black," said Doug Mientkiewicz, who struck out for the second out in the ninth. "Goodness gracious. That's as good a stuff as I've seen."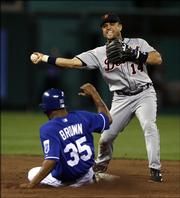 Snapping off his fastball first on the inside and then on the outside of the plate, Verlander (6-3) frequently got the Royals to lunge on the first pitch. He allowed only two base-runners until Mientkiewicz singled with one out in the seventh. He struck out seven and walked one.
"I felt strong the entire game," Verlander said. "I felt like I had my good stuff. It was just one of those nights when everything was working."
Leyland said Reggie Sanders, who flied out to end the game, was going to be Verlander's last hitter. But Leyland knew how much the second overall draft pick of the 2004 draft wanted that complete game and shutout.
"I'm really excited," Verlander said. "Most of all, I'm glad I got a win for the team. Personally, though, I couldn't be more excited. Hopefully, it's one of many to come."
Brandon Inge and Curtis Granderson homered for the Tigers, who have won 10 of their last 11 overall and lead the majors with 17 road wins.
It was the Tigers' ninth shutout in 44 games. The quickest any previous Detroit team reached nine shutouts was 52 games in 1945.
The Tigers beat Cincinnati 1-0 on Sunday, with Fernando Rodney getting the win in relief.
After losing 11 in a row in April, the Royals are now the eighth team since 1970 with two double-digit losing streaks in one season. Their 10-32 record is tied with four other teams for the fourth-worst after 42 games in major league history.
"That's as good a stuff as I've seen in a long time," Royals manager Buddy Bell said. "His total command was exceptional."
Mark Grudzielanek singled with one out in the fourth for the Royals' first hit, and Aaron Guiel walked leading off the fifth. The other three hits were singles in the eighth and ninth innings.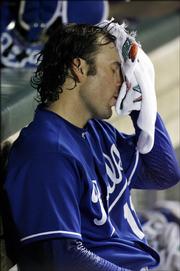 The Kansas City third inning lasted 2 minutes. It took only seven pitches for Verlander to get three groundball outs.
"They were aggressive to the fastball early in the count. Most of them weren't hitting it too hard, so I used that to my advantage and had some quick innings to make it to the ninth," Verlander said.
Jeremy Affeldt (2-4) lost for the first time in six career decisions against the Tigers, giving up 11 hits and eight runs in six innings.
"I dug a 6-foot grave right away and Verlander put the dirt on it," he said.
With only one out in the top of the fifth, every Tiger starter had at least as many hits (1) as the Royals had as a team. Chris Shelton was the only Tiger not to score.
The Tigers scored five runs in the second on Inge's two-run homer and a three-run shot by Granderson.
Magglio Ordonez had a two-run single in the fifth and Craig Monroe added an RBI single.
Notes: It was Detroit's first back-to-back shutouts since June 21-22, 1996, against Minnesota. ... Royals CF David DeJesus hoped to compete in nine-inning games this week in Arizona as he continues rehabbing a hamstring injury. Also getting a good report from Arizona was RHP Zack Greinke, who is working himself back into shape after missing most of the regular spring training while attending to personal issues. ... Detroit INF Carlos Guillen was held out Monday with a sore back. He had at least two hits in four of his last seven games and was expected to return to the lineup on Tuesday.
Copyright 2018 The Associated Press. All rights reserved. This material may not be published, broadcast, rewritten or redistributed. We strive to uphold our values for every story published.