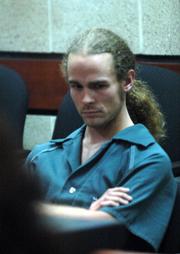 A man already charged with three cases of HIV exposure in Douglas County was arrested on a fourth case this morning after a court appearance.
Robert W. Richardson II, 29, was arrested by a sheriff's deputy who was waiting for his court appearance to end. Richardson is expected to make a first appearance on the new case tomorrow, and his bond on the new charge has been set at $100,000.
In addition to the four Douglas County cases, Richardson has criminal cases pending in Emporia and Johnson, County, Mo.
He is accused of exposing several women to HIV through sexual contact. Two of the women in Douglas County have testified they met Richardson online through dating web sites.
Copyright 2018 The Lawrence Journal-World. All rights reserved. This material may not be published, broadcast, rewritten or redistributed. We strive to uphold our values for every story published.