Here's the funny - and puzzling - thing about big-time college football recruiting: Making a commitment to attend a school often means getting dramatically increased attention from other schools.
Never mind that pledge.
Free State High's Christian Ballard is learning the ropes of the maddening process called recruiting. Just a few months ago, Ballard had one scholarship offer, from Kansas University. At KU's junior day in February, he gave KU coach Mark Mangino his word that he was going to be a Jayhawk in the fall of 2007.
And now?
"It's a revolving door here, to tell you the truth," FSHS coach Bob Lisher said. "Once he committed, the floodgates opened."
Ballard can't sign his letter of intent until next February. Until then, it's open season for programs looking to lure the tight end away from his commitment to KU. Major universities, seeing Ballard's size and remarkable speed, are beating down Free State's door to talk to him.
Kansas State is believed to have offered a scholarship the day after Ballard's commitment was made public. Since then, close to a dozen schools - all Division I-A, mostly BCS-conference members - have offered full athletic scholarships. Among them: Iowa, Michigan, Michigan State, Georgia, Wisconsin, Colorado State, Oklahoma State and Missouri. Other schools, like Nebraska, UCLA and Oklahoma, are showing signs that they might offer soon.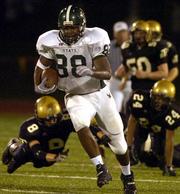 Ballard insists he's still committed to KU, though he admitted the offer from Georgia raised his eyebrows - he moved from Georgia to Kansas in fifth grade and still has a lot of friends there.
"It's a sticky situation right now," Ballard said, "but I'm still firm on KU."
However it turns out, it will be a stressful process that may be unprecedented in this city. Lisher has been around a long time, and he can't remember a city football recruit so aggressively pursued.
Ballard's not shying away from it, either. He's attended combines and is working hard to polish his game - and reputation - so he can be on top of the high school football world this fall.
"I do know he would like to get enough exposure to be a top-rated tight end," Lisher said, "and perform well enough to be invited to the Army All-American Bowl."
He does have the promise. At 6-foot-4, 280 pounds, Ballard is unusually athletic, clocking 40-yard dash times around 4.7 seconds. His work at the Greater Kansas City Football Combine earlier this month prompted rivals.com analyst Jeremy Crabtree to write, "It was pretty clear that he had cemented up a spot as the Sunflower State's top prospect."
Ballard projects as either a tight end or a defensive end in college. KU is interested in him as a tight end, and Lisher thinks that's the right fit.
"I think he's a pretty doggone good tight end blocking-wise, and he's pretty good in the open field when he gets the ball," Lisher said. "I like him on that side of the ball."
Ballard speculates that the next few months will be combine-free. He'll continue to work on his game all summer and continue talking to coaches drooling over his potential.
He does maintain, though, that at this point he still plans to be a Jayhawk.
"I'm trying to stay humble right now," Ballard said. "It's kind of hard with some of the pretty big-name schools calling and coming by and showing me interest. But I'm trying to stay humble."
Copyright 2018 The Lawrence Journal-World. All rights reserved. This material may not be published, broadcast, rewritten or redistributed. We strive to uphold our values for every story published.