Topeka — Tucked into the final state appropriations bill approved earlier this month by the Legislature was $150,000 for umbilical cord research at Kansas University.
KU didn't even ask for it, but state Rep. Mary Pilcher-Cook, an avid opponent of embryonic stem cell research, did.
Kathy Mitchell, the KU assistant professor who will receive the funding for her lab, doesn't care about the political battles going on, so long as she can continue her research.
"I believe that all types of stem cell research should be done because there is much to be learned," said Mitchell, who works in the department of pharmacology and toxicology at KU's Lawrence campus.
Pilcher-Cook, R-Shawnee, and several other legislators oppose embryonic stem cell research and pushed throughout the session for a ban on cloning. That proposal failed, but lawmakers plan to study the issue before the next session.
Stem cells have the ability to turn into different types of cells, and scientists believe they can use them to treat diseases. Stem cells derived from embryos are thought to have greater developmental potential, but embryonic stem cells derived from humans are controversial because to start a stem cell line, a human embryo must be destroyed or therapeutic cloning must be used.
But Pilcher-Cook, like many opponents of embryonic stem cell research, promotes the use of stem cells derived from the blood of babies' placentas and umbilical cords after birth.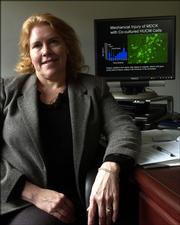 "Some of the leading-edge research is coming from stem cells extracted from umbilical cords," she said.
Pilcher-Cook thinks the research on embryonic stem cells will "fade away" not only because of the controversy but also because application of the research has had problems, such as the formation of tumors and rejection of tissue.
Respect of viewpoint
Mitchell said she disagrees with Pilcher-Cook's opposition to embryonic stem cell research but respects her position.
"This is based on her personal faith. She and I have discussed this, and while I disagree with her and believe that embryonic stem cell research should be done, I understand and respect her strong faith and belief in the teachings of her church," Mitchell said.
At Mitchell's lab, researchers are studying the basic characteristics of cells from umbilical cord blood and how they compare with adult stem cells. The long-term goal is to better understand cord blood cells as a source of stem cells for the treatment of disease and the repair of damaged tissues.
Mitchell is one of the four founding fellows of the Midwest Institute for Comparative Stem Cell Biology at Kansas State University, which also received $150,000 for umbilical cord blood study in the appropriations bill.
Abundant supply
Mitchell said that compared with embryonic stem cells, cord blood cells are more tolerated by the immune system and less likely to be rejected or form tumors.
And, she noted, there is an abundant supply of cord blood cells and they can be frozen for an undetermined number of years. In fact, cord blood banks are appearing throughout the nation, and Pilcher-Cook passed a bill that directs the Kansas Department of Health and Environment to set standards for these storage options.
Pilcher-Cook is confident the research will produce great findings.
"I wish it could've been a lot more" in funding, she said. She said one of her major disappointments of the session was her failure to advance a measure that would have given tax credits to people who contributed to umbilical cord research.
"Each of us have some diseases in our family that are very painful. This would give people the ability to put their money toward research where there is new progress every day," she said.
Copyright 2018 The Lawrence Journal-World. All rights reserved. This material may not be published, broadcast, rewritten or redistributed. We strive to uphold our values for every story published.