No crying in baseball? Says who?
Many a wet eye was perceived prior to Kansas University's home baseball finale Sunday afternoon at Hoglund Ballpark.
"There were a lot of tears in the dugout," KU coach Ritch Price said. "By far, it was the most emotional day in the four years I've been here."
Fortunately for the Jayhawks, they were able to overcome the emotion of eight seniors bowing out and thump Texas A&M;, 11-6.
Not that KU's players didn't look drained early.
A&M; scratched a pair of runs against senior right-hander Ricky Fairchild in the first inning, and KU couldn't muster a base-runner off A&M; freshman right-hander Kyle Thebeau in the first two frames.
"We didn't get down on ourselves," KU first baseman Jared Schweitzer said. "We knew two runs weren't going to win the game."
Seven runs were enough, however. That's how many the Jayhawks scored in the third inning, thanks for five hits and four walks. Shortstop Ritchie Price and left fielder John Allman each had a two-run single in what proved to be the decisive frame.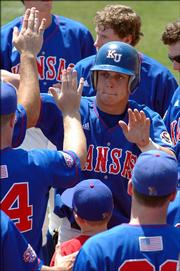 On the afternoon, Price and Schweitzer, two of the eight KU seniors, each went 3-for-5 with two RBIs to pace a 14-hit attack.
"We played well," Schweitzer said. "We couldn't ask for a better day."
Echoed Price, oldest son of the Jayhawks' coach: "It was definitely a good way to go out. Three hits were nice, but more important was getting the sweep."
KU's only sweep of a Big 12 Conference foe this season may have come against the league cellar-dweller, but Price knows how difficult it is to win three straight games against any Big 12 team.
"It's tough in this conference," the KU coach said. "It's almost impossible."
Going in to today's game, the Jayhawks knew they had qualified for the league tournament, and they knew they couldn't improve their seeding. But they also knew their chances of earning an NCAA Tournament bid without capturing the league tourney title would have been shaky if they hadn't taken care of business against downtrodden A&M.;
"We're 13-14 in the league," Price said of his club's won-lost record, "and that's better than 12-15 to the selection committee."
Those 13 wins, incidentally, are the most KU has compiled since becoming a part of the Big 12 in 1997. Also, seniors Schweitzer, Price, Fairchild, Don Czyz, Gus Milner, Kodiak Quick, Matt Baty and Trey Randa were involved in more victories than any class in program history.
"It's proud to know we've won a lot of games as a class," Schweitzer said.
Ritchie Price has played in far more games (246) than any KU player. He started at shortstop on Day One when he came to Lawrence with his dad from Cal Poly-San Luis Obispo.
"Coming here four years ago," young Price said, "we're proud of the progress we've made."
Notes: Fairchild evened his record at 6-6. He was lifted in the seventh inning after throwing 100 pitches. ... Baty and Milner each had a hit in their final game at Hoglund. ... Catcher Dylan Parcyk, batting only .141, went 2-for-3 and hiked his average to .160. ... With his three hits - including a pair of doubles - Schweitzer elevated his team-leading BA to .351. ... KU wound up with a 20-6 record at home. ... KU's last conference sweep had been against Kansas State two years ago. ...
Copyright 2018 The Lawrence Journal-World. All rights reserved. This material may not be published, broadcast, rewritten or redistributed. We strive to uphold our values for every story published.