When Sira Konare Andrews came to Kansas from Africa in 2002, she could say only two words in English: yes and no.
Konare Andrews, 23, graduated from Kansas University Sunday, joining the more than 4,000 celebrating the completion of one journey and the start of another.
"All my hard work has paid off," said Konare Andrews, who earned degrees in accounting and business administration.
At least 20,000 relatives and friends flocked to Memorial Stadium and Campanile Hill Sunday for KU's 2006 commencement.
Many stood beneath umbrellas to shade themselves from the mid-80s temperatures as they watched the graduates advance down the hill.
"The walk is the ceremony," Chancellor Robert Hemenway said of the KU tradition since 1907.
As they entered the stadium, some graduates twirled. Some galloped. Others did back flips. And one group performed a mock touchdown celebration.
Costumes
Many, like graduate Amanda Probasco, spruced up their black caps and gowns with decoration.
Photo Gallery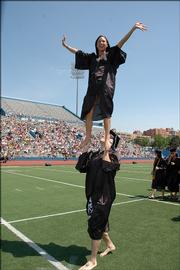 KU graduation 2006
Probasco adorned her cap and gown with more than 800 plastic jewels. The jewels spelled out KU on her back and glittered from her cap.
"You don't want to blend in with everybody," she said.
Ben Johnson, who earned a psychology degree, wore a fluffy bright blue dinosaur pen taped to his cap so his mother could spot him in the crowd.
"It's a big day for both of us," Johnson said of himself and the dinosaur.
Speeches
Kansas Board of Regents Chairwoman Donna Shank told the graduates they should be thankful for the education.
"A degree from the University of Kansas is valuable," she said.
Hemenway addressed graduates for his 10th straight time in a speech that reflected on the many commencement speeches that came before.
He recalled a Lawrence Journal-World article several years ago that he said gave tips on speeches. It helped keep him humble, he told the graduates.
"I advise you to stay humble, too," he said, "especially if you have contact with newspapers."
Hemenway also sang to the graduates. And he made special mention of Leigh McHatton, a victim of the October Boardwalk Apartments fire who suffered severe burns, but graduated Sunday.
He gave special mention to Larissa Ejzak, a graduate who earned a 4.0 grade-point average and a perfect score on the GRE, the standardized test for graduate school. Ejzak received degrees in physics and theater.
Journeys
The occasion marked the end of long, life-changing journeys for many students.
For Amy Moore of Olathe, KU was the third school she attended after time at Johnson County Community College and Emporia State University. Moore did her early studies at the community college and transferred from Emporia to KU when she changed her major from theater to communication studies.
She also met her husband, Timothy Moore, while in school. Moore said Sunday was special.
"The most fun, I think, is today - graduating," she said.
Konare Andrews was born and raised in the west African country of Mali. Her native language is French.
She came to the United States in 2002 to learn English and study. The language barrier was difficult at first.
"It was really hard," she said. "The first month, I was like a deaf person."
Konare Andrews learned English at KU's Applied English Center. She recalled her early months in Kansas, watching Court TV because the speakers usually talked slowly and clearly.
"That was the only thing I could understand, so it became my favorite channel," she said.
Though there were times she felt like giving up, she stayed. She also married and had a baby boy, Elijah. She plans to continue school and work on a master's degree in accounting.
"I'm so glad I came here," she said.
Copyright 2018 The Lawrence Journal-World. All rights reserved. This material may not be published, broadcast, rewritten or redistributed. We strive to uphold our values for every story published.