Few people see it because it passes through Lawrence in the middle of the night, but last year Amtrak's Southwest Chief passenger train stopped long enough here to pick up or return more than 3,300 people.
Among them was Lawrence resident Bob Adams.
"I've had some wonderful trips on Amtrak," said Adams, who has enjoyed many train trips over the years. "I've gone all the way to the West Coast, and I've gone all the way to the East Coast."
It was 35 years ago this month that the nation's Amtrak passenger train service was created as a result of the 1970 Rail Passenger Service Act, which allowed railroad companies to contract for passenger service.
Amtrak's continued operation over the years has required federal government funds, and it relies mostly on the use of tracks owned by freight railroad companies. The amount of the funding to Amtrak has fluctuated and at times the continuation of the service has been in doubt, including the route through Lawrence.
Loyal riders
Federal support for Amtrak has continued in no small part because of its many faithful riders, according to Craig Sanders, whose book, "Amtrak in the Heartland," recently was published.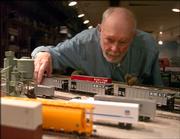 "There are a lot of loyal supporters of Amtrak, and they can be counted on to write letters to Congress and push for it," said Sanders, a journalism instructor at Cleveland State University. "There are many people who would still like to see some sort of passenger service."
In his book Sanders has written chapters about the history of each of Amtrak's Midwest routes. Included are maps of those routes and photographs of the equipment, locomotives and stations.
One of the chapters discusses the Southwest Chief's route, which extends from Chicago through Kansas City, Mo., Lawrence, Topeka and west to Los Angeles and back.
The Chief initially was a Santa Fe railroad train. As Amtrak, in 1974, it was renamed the Southwest Limited before becoming the Chief.
"It's been one of the better trains over the years, for one thing because it was operated by the Santa Fe, which did a particularly good job especially on on-time performance," Sanders said.
The Southwest Chief also started with Santa Fe equipment, which was in pretty good shape, Sanders said. Ridership has fluctuated over the years depending on the economy, he said.
Up-and-down popularity
Statistics provided by Amtrak show that in April a total of 22,346 passengers rode the Southwest Chief along its entire route. That is up about 2 percent from the April 2005 ridership, records showed.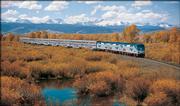 In addition to the 3,347 riders who in 2005 boarded or deboarded at the Lawrence station, 413 E. Seventh St., another 118,152 boarded or deboarded in Kansas City.
Amtrak trains' on-time performances have been inconsistent through the years, Sanders said. Last year, however, Amtrak's records show the Southwest Chief arrived on time 71.7 percent of the time. The company's goal was 70 percent, a spokeswoman said.
Amtrak generally provides good service and has made improvements in its food quality, Adams said.
"In recent years their food has been spectacular," Adams said. "Every once in a while you get some bad service. You can get bad service any place, but I think they (Amtrak) have really upgraded."
No major changes in train equipment or routes are expected in the immediate future, Sanders said. He thinks ridership might increase because of high gasoline prices, which may discourage people from driving.
"I think in the short term, Amtrak is going to be around, although they are talking about doing some restructuring of routes and I'm not sure how that is going to turn out," Sanders said.
Adams, who belongs to a model railroaders club, has a few Amtrak cars in his collection.
"It's only a part of modern railroading, but if you are going to do a complete modern model railroad you include some Amtrak trains," he said.
Copyright 2017 The Lawrence Journal-World. All rights reserved. This material may not be published, broadcast, rewritten or redistributed. We strive to uphold our values for every story published.