New Orleans — Newly re-elected Mayor Ray Nagin immediately began trying to mend ties with political opponents and crucial leaders on Sunday as he looked ahead to another four years to oversee reconstruction of this major American city.
"We're going to bring this city together. It's my intention to reach out to every segment of this community," Nagin said a day after defeating Lt. Gov. Mitch Landrieu. "This is our shot. This is our time."
Nagin said he reiterated his desire to work together in conversations with President Bush and Louisiana Gov. Kathleen Blanco.
The president called to congratulate Nagin and said he would rather finish rebuilding with the mayor because the two men had weathered Hurricane Katrina together, Nagin told fellow parishioners at St. Peter Claver Church.
Nagin said he pressed Bush to help accelerate the rebuilding and to help with the removal of tons of debris still littering neighborhoods. He also raised questions about the pending end of federal aid for some evacuees still living in Houston and other cities.
Nagin said he plans to put together a commission, including some former political rivals, to decide on action in the next 100 days. Debris removal and housing will be top priorities.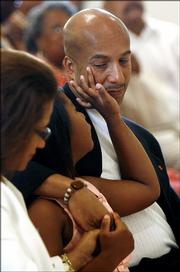 The former business executive dismissed threats by some business people who said they would leave if Nagin remained in office.
"Business people are predators, and if the economic opportunities are here, they're going to stay. If not, they're going to leave," said Nagin, in his now famous vernacular style. "I don't worry about that stuff. I think there's enough interest around the country that we're going to attract top businesses. ... God bless them. I hope they stay, but if they don't, I'll send them a postcard."
Nagin, who beat Landrieu 52.3 percent to 47.7 percent, begins a second term May 31, a day before the start of hurricane season. Still staggering after Hurricane Katrina, many neighborhoods remain uninhabitable, debris-filled ghost towns nine months after the storm ravaged the Gulf Coast.
Landrieu said Nagin deserves the city's support.
"We've taken Mayor Nagin through the crucible, and he survived the test of the storm," said Landrieu, who called Nagin a friend before and during the campaign. "It's really about the future; it's not about who's sitting in the mayor's office."
Months ago, Nagin had a plan put together by community leaders for the rebuilding effort, but many parts have been stalled, waiting for funding as the campaign was fought. Analysts said the rebuilding may gather momentum now that the uncertainty of the election has been removed.
"Now that there's some stability as to who is going to be mayor, and he's already in place, hopefully that means the rebuilding process will be accelerated," said analyst Silas Lee.
The vote in Saturday's election split largely along racial lines, but both candidates got about one-fifth crossover vote. Analysts said that boded well for the future of a city where deep racial divides were exposed after Katrina and rebuilding plans raised questions about the future of some predominantly black neighborhoods.
Fewer than half the city's 455,000 pre-Katrina residents are living in New Orleans; most remain scattered in other cities in Louisiana and elsewhere in the country. Turnout for the election was 38 percent, slightly higher than the April primary.
Copyright 2018 The Associated Press. All rights reserved. This material may not be published, broadcast, rewritten or redistributed. We strive to uphold our values for every story published.