Imagine the city's smoking ban supersized.
Come Sept. 1, employees and visitors at Lawrence Memorial Hospital won't have to imagine. The entire LMH campus will become a smoke-free environment, meaning that people won't just be prevented from smoking indoors - which already is prohibited by the city's smoking ban and state hospital law - but also will be banned from smoking outside on LMH property.
LMH leaders said the new policy was an example of the hospital trying to practice what it preaches.
"I think this sends a direct message that the location where health care is delivered emphasizes wellness and a healthy environment," said Gene Meyer, president and CEO of the hospital, which has its main campus at 325 Maine. "We want to be the leaders in health care, and we want to show it in what we do at our locations."
But several LMH employees - all of whom declined to give their names for fear of retribution by their bosses - said the new policy was fraught with problems.
"There are a lot of employees who don't like it, but I guess they can do what they want with their staff," said a hospital employee at one of the hospital's outdoor smoking areas. "But what about the visitor who brings someone into the emergency room and needs to step outside to smoke to calm their nerves?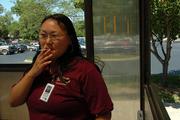 "We're going to have to tell them they can't smoke outside? They don't need that. They have enough stress already."
The policy will be strict and relatively loophole-free. In addition to banning smoking outdoors on LMH property, the policy bans staff and visitors from smoking inside vehicles on LMH property, including LMH South at Clinton Parkway and Kasold Drive. The policy reminds people that it is inappropriate to smoke without permission on properties that are adjacent to the hospital.
Staff members must meet another level of compliance. The policy states that hospital leaders can send an employee home to change clothes if the odor of tobacco smoke is present. The policy also states that repeated incidents will subject the employee to "corrective action."
Deborah Thompson, the hospital's vice president of human resources, said she was emphasizing to employees that the policy fit with the mission of the hospital to promote wellness. She said she had heard from several employees who are smokers who appreciate the policy.
"Several of them are saying that this is just the kick in the pants they needed to quit smoking," Thompson said.
She said the hospital would offer free smoking-cessation programs to employees who are interested in quitting.
Thompson said she thought hospitals all across the state soon would be implementing policies similar to the one at LMH. Legislation was introduced during the last state legislative session that would have mandated all Kansas hospitals to have smoke-free campuses, but the bill did not pass.
Cindy Samuelson, a spokeswoman with the Kansas Hospital Assn., said at least two hospitals in the area already have smoke-free environments: Manhattan's Mercy Regional Health Center went entirely smoke-free in January; Topeka's St. Francis followed suit in March.
Judy Wagner, vice president of mission services for Mercy in Manhattan, said the policy had gone over well.
"We recognized that it was a culture change and that it would take some time to adjust to," Wagner said. "We don't go up to a person and demand that they put out their cigarette. It is all about the approach. We tell them about our policy and ask them to put it out and then leave. We don't stand around and watch over them."
Copyright 2017 The Lawrence Journal-World. All rights reserved. This material may not be published, broadcast, rewritten or redistributed. We strive to uphold our values for every story published.