Baghdad, Iraq — Iraq's new prime minister promised Sunday to use "maximum force" if necessary to end the brutal insurgent and sectarian violence wracking the country, while a suicide bomber killed more than a dozen people at a restaurant in downtown Baghdad.
Although he focused on the need to end bloodshed, Nouri al-Maliki also had to address unfinished political negotiations at a Cabinet meeting on the government's first full day in office.
Al-Maliki said the appointment of chiefs for the key Defense and Interior ministries should not "take more than two or three days." He is seeking candidates who are independent and have no ties to Iraq's myriad armed groups.
The two ministries, which oversee the army and the police, are crucial for restoring stability, and al-Maliki needs to find candidates with wide acceptance from his broad-based governing coalition of Shiites, Sunni Arabs and Kurds.
Failure to set the right tone could further alienate the disaffected Sunni Arab minority, which is the backbone of the insurgency. Or it could anger Shiite militias, some of which are thought to number in the thousands.
"We are aware of the security challenge and its effects. So we believe that facing this challenge cannot be achieved through the use of force only, despite the fact that we are going to use the maximum force in confronting the terrorists and the killers who are shedding blood," al-Maliki said.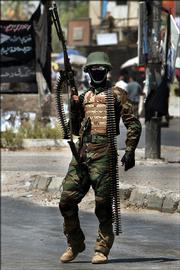 Disarming militias, whose members are believed to have infiltrated the security services, will be a priority, he said, along with promoting national reconciliation, improving the country's collapsing infrastructure and setting up a special protection force for Baghdad.
It is unclear whether al-Maliki, a Shiite with the conservative Islamic Dawa party, will be able to persuade others in the religious United Iraqi Alliance to use their influence to try to disarm Shiite armed groups.
Many Sunni Arabs think some Shiite militias are behind death squads blamed for sectarian violence that has escalated in recent months, leaving dozens of bodies to be found scattered across Iraq every day.
Al-Maliki decried what he called "sectarian cleansing."
"The militias, death squads and the killings are all abnormal phenomena," he said. "We should finish the issue of militias because we cannot imagine a stability and security in this country with the presence of militias that kill and kidnap."
The new government was welcomed by several Arab leaders, many of whom worry that the violence in Iraq could spill over to its neighbors and that their own extremists might find fertile training ground in Iraq and eventually return to their homelands to wreak havoc.
In neighboring Jordan, King Abdullah II said he hoped the seating of al-Maliki's government proves to be a "significant step toward building a new Iraq that would be able to fulfill the aspirations of its people for a better life, democracy, (political) pluralism and stronger national unity."
Arab League Secretary-General Amr Moussa said the new Cabinet could open the way for a conference in Iraq bringing together representatives of the country's diverse ethnic and political forces, possibly as early as next month.
Kuwait's leader, Emir Sheik Sabah Al Ahmed Al Sabah, whose country was invaded by Saddam Hussein's army in 1990, expressed hope the Cabinet members will succeed in "closing their ranks and using their capabilities in building Iraq."
Copyright 2018 The Associated Press. All rights reserved. This material may not be published, broadcast, rewritten or redistributed. We strive to uphold our values for every story published.