New York — If the history of The New Yorker could be captured in a single life, honors likely would fall to Roger Angell, who at age 85 predates the magazine itself and remains as vital as the publication he literally grew up with.
Son of longtime New Yorker editor Katherine White and stepson of E.B. White, one of the magazine's greatest writers, Angell has an affinity that goes back to his early teens, when he would memorize captions of New Yorker cartoons, and a record of bylines that begins in 1944 with a short story, "Three Ladies in the Morning."
Angell is improbably youthful and attractive, with a trim, elegant mustache and a bearing both dignified and irreverent. He is a "grand old man" who doesn't want to hear about it, disputing the tribute of his boss, New Yorker editor David Remnick, who had e-mailed The Associated Press that "there is not a person in the office who doesn't want to attract Roger's notice, to impress him, to please him."
"I don't know if that's true," Angell says. "And I don't look around for people to impress me. I know I have a certain status here, but I'm not looking to hand out smiles."
Rounding the bases
Angell still contributes the baseball essays and humor pieces that New Yorker readers long have enjoyed and comes most days to the office, although he now has the freedom to duck out before rush hour. He doesn't write daily, but tries to "do something. I read stuff. I do whatever is going on."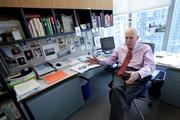 He asks for no special treatment and, in the hierarchy of office real estate, his request has been granted. In 1999, The New Yorker moved from its offices near Fifth Avenue, overlooking Bryant Park, to the narrower confines of the Conde Nast building in Times Square. Angell traded down from a spacious, corner slot to a rather cramped space about halfway down the hall, with room enough for a couple of chairs, a work station, some bookshelves and an unopened stash of wine - "promotional stuff," he says, "looks pretty cheap" - on the floor.
Angell is more than qualified to write a memoir of The New Yorker, but fans will have to settle for the random glimpses in his new book, "Let Me Finish," a collection of personal essays that likely will pass for his official story.
The book includes an affectionate portrait of E.B. White, who died in 1985. In "Andy," as White was often called, Angell remembers his stepfather's "plaid button-down shirt and tweed jacket," his chronic aches and pains and the cold December day he lost his shoes and tiptoed around on hockey skates, "bent half-double, laughing at himself."
He also describes White's later years, when the author had Alzheimer's and would listen to his son, Joe, read passages of his own work, not always knowing who had written it.
"Sometimes he'd raise a hand and impatiently wave a passage away: not good enough," Angell writes. "Other evenings, he'd listen to the end, almost at rest, and then ask again who'd written the words.
"You did, Dad," his son replied.
Leading off
Angell was born in New York in 1920 to Katherine and Ernest Angell, an attorney who became head of the American Civil Liberties Union. His parents were gifted and strong, too strong, it appears. "What a marriage that must have been," Roger Angell writes in his new book, "stuffed with sex and brilliance and psychic murder, and imparting a lasting unease."
The New Yorker was founded in 1925, with Katherine Angell serving as the magazine's fiction editor and an aspiring young wit named Andy White contributing humor pieces. By the end of the decade, they were married and Roger Angell was still living with Ernest Angell, who, Roger writes, "for all his destructiveness and ferocity and self-doubt, turned out to be an exceptional father, with heroic energies."
Roger Angell wasn't so bad, either. He was, he doesn't mind saying, a pretty smart kid, memorizing not just New Yorker captions, but batting averages and the members of President Franklin Roosevelt's cabinet. He loved reading and writing and likened his joining The New Yorker to being "attached to the family firm." E.B. White supported him.
"There was never any competition," Angell says of his stepfather. "He was perfectly content with who he was, and he was extremely happy and proud of me. He even wrote to (New Yorker publisher) Harold Ross that I ... was good at this kind of stuff."
'The images just pop ...'
Angell has contributed parodies, short stories and Christmas poems to The New Yorker, but he has most distinguished himself by his editing and his baseball essays, the literary notes of an admitted amateur that began in the early 1960s when the magazine was seeking to expand its sports coverage.
"Sports writers weren't supposed to be fans," he says. "I would write in the first person, about my own emotions, which you were not supposed to do."
"Roger's writing is always energetic, but especially when he's writing about baseball. The images just pop off the page," says John Updike, a longtime friend and fellow New Yorker contributor.
Writing in 'a changed world'
Friends describe Angell as an accomplished practical joker with a quiet, but definite, air of melancholy. He is not a nostalgic man, nor an unfortunate one, but he has seen and known far more than his appearance lets on. Beyond his parents' divorce and one of his own, he has lived through the Depression, World War II, the Cold War and the Sept. 11, 2001, terrorist attacks, which for him cracked history in two.
"New York feels very vulnerable now. I don't feel like it's going to come down, but there's an altered feeling," he says.
"And this is why I look at the people who didn't experience this, who died before it happened, as somehow younger than the people alive now. There's a particular state of endless anxiety and foreboding, a changed world. And this is not something people like Andy White knew."
Copyright 2018 The Associated Press. All rights reserved. This material may not be published, broadcast, rewritten or redistributed. We strive to uphold our values for every story published.