Next year, Amy Magnuson will be buried in books as a freshman at MIT, striving to become an engineer.
But Sunday night, the Lawrence High School grad had other goals.
"I'm going to win that car," she said.
But before Magnuson or any of the nearly 800 Lawrence area high school graduates could try to win a new ride at the Project Graduation after-party Sunday, they had to don cap and gown and pass through the stone arch at Haskell Stadium - and into a new phase of their young lives.
Lawrence High School and Free State High School held their graduation ceremonies Sunday at Haskell, saying goodbye and good luck to seniors.
On what may have been Lawrence's most event-packed graduation day ever - which also included Kansas University - graduates and parents alike felt waves of emotions.
"It's more stressful than anything," Lawrence High graduate Danielle Jones said while waiting to walk through the arch.
Photo Gallery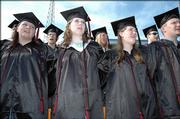 Lawrence High graduation 2006
Next year at a tech school in Wyoming, Jones will enter a world where room and board aren't free - and she isn't particularly looking forward to it, she said.
For parent Gaila Gilbert, anxiety came from a different source. You see, Dustin Gilbert drives race cars.
Her son, the Lawrence High graduate, isn't quite in the big leagues of racing yet. Driving sleek Grand National cars at Lakeside Speedway in Kansas City, Kan., Dustin will, for the time being, skip college to focus on dirt track laps.
"He's going to stay home for a while," Gaila Gilbert said.
But Gaila Gilbert said she couldn't have been prouder - a sentiment reflected by many parents Sunday.
Photo Gallery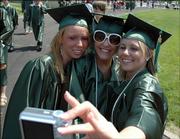 Free State High graduation 2006
After the curving line of silver-and-green-clad Free State High graduates wound their way into the stands, Mason Heilman lamented that some schools believe athletics are more important - and more celebrated - than music, art and theater.
"The faculty and students of Free State disagree," the graduate said during a speech.
But before Heilman spoke - and before Free State graduates Spencer Lott and Zach Morgenstern gave a mock breakup speech - Lawrence Supt. Randy Weseman told the students that, regardless of how they felt about it, high school was over.
Weseman gave a nearly identical speech at the Lawrence High graduation four hours later Sunday.
The good news, Weseman said, was that all of the quirks of high school that grate on students' nerves were over.
High school commencement speakers
Free State High School ¢ Supt. Randy Weseman ¢ Mason Heilman, member of graduating class ¢ Spencer Lott and Zach Morgenstern, members of graduating class ¢ Joseph Snyder, principal ¢ Leonard Ortiz, school board president
Lawrence High School ¢ Weseman ¢ Danielle M. Marsico, member of graduating class ¢ Stuart T. Bell, member of graduating class ¢ Steven Nilhas, principal, and Jan Gentry, assistant principal ¢ Ortiz
No more 25-minute lunches. No more surveillance cameras watching their every move. No more of the debates and switches and decisions that Weseman, along with the school board seated to his left, took full responsibility for.
"We are to blame," he said.
On Sunday, to most outgoing seniors' pleasure, all of that ended.
The bad news, Weseman said, was that students now had to prepare themselves for a life much different from the one they have known - as Weseman put it, "45 to 50 years of being gainfully employed after today.
"Welcome to reality."
Now, he said, the taxpayers who have supported the graduates through years of public education want a return on their investment - something that the graduates should also expect from themselves.
"Now, go out into this world," Weseman said, "and prosper."
High School Graduation 2006
More about local high school graduations
Free State High School
Lawrence High School
All schools
Copyright 2018 The Lawrence Journal-World. All rights reserved. This material may not be published, broadcast, rewritten or redistributed. We strive to uphold our values for every story published.