There's an irony to Neil Taylor's involvement in keeping the Lawrence River Trail in good shape.
Taylor enjoyed riding the trail so much, he decided to become part of the group that keeps it usable. Now that he's responsible for its upkeep, he doesn't dare ride it.
"I like Clinton myself," said Taylor, trail coordinator for the Lawrence Mountain Bike Club. "When I ride the river trail, I'm always seeing stuff that needs to be done."
The LMBC is responsible for maintenance on the river trail, a nearly nine-mile loop along the Kansas River, accessible from Eighth and Oak in North Lawrence. LMBC and the Kansas Trails Council jointly maintain the Clinton Lake State Park trail west of the city.
Work on the trails is performed by volunteers who meet once a month.
If they didn't?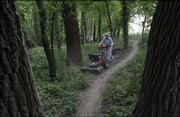 "It'd be overgrown, and that'd be it," avid mountain biker Larry Spray said. "No more trails."
It's a labor of love. Most of the volunteers - Taylor says river-trail work days attract about 10 people a month, and they work from 9-noon - have a vested interest in keeping the trails open.
"We're all mountain bikers who like to take care of the trails," said Taylor, who has been working the trails for almost seven years. "I enjoy being out in the woods. I want to keep the trail a singletrack trail for mountain bikers and runners. It's a valuable asset to the city, and I want to keep it open."
This time of year, Taylor said, most of the work was mowing.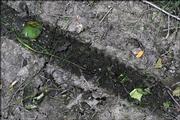 But the crews also cut and remove fallen limbs and trees, cut back brush, work on the trail bed and, as needed, build new trail.
"I think they do a really good job," Spray said. "In the summer, when the weeds grow really fast, it gets a little woolly, but it's not too long before they come along and knock 'em down. It's a lot of work out there. I mean, it's an eight-mile loop you have to mow. Come on: That's a lot of work."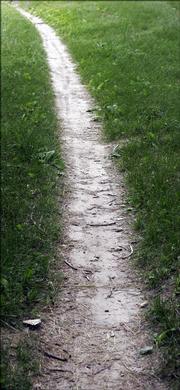 Taylor says it's largely unappreciated, too.
"We find that everybody thinks it's magically taken care of," he said. "They don't realize how it gets mowed or who takes care of it."
Taylor's trips to the trail aren't limited to the monthly work days.
If a storm blows in and uprooted trees make the trail unpassable, Taylor hears about it.
He'll get an e-mail report and will head out to rectify the problem.
"I'm trails coordinator," Taylor said, "so it's my responsibility to make sure the trail stays open."
But Taylor can't do it alone.
"It's in good shape right now, but it's growing rapidly," he said. "This mowing (Saturday) and the next one are the two biggest ones, especially next month. We really need help with it. It gets tall quick. The key is to get enough people out there we can have all of our equipment going. The more you have, the faster it goes. Anybody that wants to come out : we'd love to have them."
The next work day at Clinton Lake will be June 3, and the next river-trail work day will be June 17.
Copyright 2018 The Lawrence Journal-World. All rights reserved. This material may not be published, broadcast, rewritten or redistributed. We strive to uphold our values for every story published.