When Albert Pujols is at the plate, there is no such thing as wasting a pitch.
Kansas City right-hander Scott Elarton learned the hard way Sunday when his delivery to the extreme outer part of the plate was driven by Pujols to the opposite field and into the Royals' bullpen.
Pujols homered in his third straight game, and the St. Louis Cardinals beat Kansas City, 10-3, on Sunday to complete a three-game sweep and send the Royals to their ninth straight loss.
"He's an unbelievable hitter," Elarton said. "He's probably the best hitter in the game right now. I wanted to waste a pitch (with the count 1-2). I felt like I had a pitch to waste, and he hit it out of the ball park."
Kansas City (10-31) has the worst record in baseball and has been swept nine times this season.
Pujols, who leads the majors with 22 home runs in St. Louis' 44 games, reached the homer mark in the second-fewest games in baseball history. Barry Bonds did it in 43 games in 2001.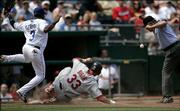 "He's a once-in-a-lifetime thing, not once in a lifetime, but he compares to anybody who has ever played the game is a better way to say it," Cardinals manager Tony La Russa said of his star first baseman.
Pujols, who went to Fort Osage High School and Maple Woods Junior College in Kansas City, also leads baseball with 54 RBIs, 46 runs scored and 118 total bases. He already had a four-game homer streak this season between April 15-18.
"It's not about me," Pujols said. "It's about the team. We got three wins and that's what we want to do."
Next up for the Cardinals is a three-games series at San Francisco, where Bonds is tied with Babe Ruth for second place with 714 career home runs.
"He's put up some great numbers in his career," Pujols said. "He's the best player in baseball right now."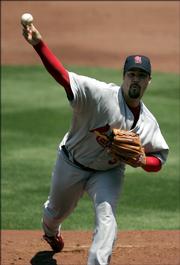 The Cardinals have won five straight for the first time since July 10-18, 2005, and are a season-high 14 games over .500. They have dominated their cross-state rivals in interleague play, winning 10 of 11 from Kansas City.
Jeff Suppan, who pitched for Kansas City from 1998-2002, beat the Royals for the first time in five career outings. Suppan (5-3) yielded seven hits and two runs in six innings and improved to 3-1 in four May starts.
He also offered some advice on how to pitch to Pujols.
"Very carefully," Suppan said. "There are so many ways he can beat you. He's the one guy when he comes up in big situations it seems like he produces more times than not. He's continued to improve. It's fun to be on this side of the uniform with him."
Chris Duncan, recalled from Triple-A Memphis on Sunday, and Hector Luna homered in the fifth. Duncan hit a two-run shot to center, and Luna connected for a solo homer off Elarton (0-5).
Elarton, who is winless in 10 starts, gave up five runs on five hits, three of them home runs, in six innings. Elarton had retired 10 in a row before Pujols' home run.
"I can live with that," Elarton said. "The other two were bad pitches."
Elarton is finding it difficult to live with the losses.
"You get mad," he said. "We're just terrible. There are no two ways about it. We're pretty much bad in every facet of the game."
The Royals stranded 11 runners and went 1-for-8 with runners in scoring position.
"They had their chances," La Russa said. "We were all nervous in the dugout. We prevailed, but there were some nervous moments."
The Cardinals batted around in a five-run seventh, which was highlighted by Jim Edmonds' two-out, two-run single after Pujols was walked intentionally to load the bases. Scott Spiezio had a run-scoring single in the inning, and another scored on John Rodriguez's RBI grounder. Larry Bigbie came home on a throwing error by Royals reliever Andrew Sisco.
"Quite frankly, they've got a much better team than we have," Royals manager Buddy Bell said. "You make a mistake like that (Sisco's error), we just can't cover it up."
Matt Stairs led off the Royals' fourth with a double and scored on Paul Bako's two-out single. Aaron Guiel homered in the sixth for the second Kansas City run. Angel Berroa's seventh-inning double scored Stairs with the final Royals' run.
Copyright 2018 The Lawrence Journal-World. All rights reserved. This material may not be published, broadcast, rewritten or redistributed. We strive to uphold our values for every story published.