Monterrey, Mexico — Sebastien Bourdais is still the only driver to win this Champ Car season.
The 27-year-old Frenchman is 3-for-3 after overcoming a slow early pit stop Sunday to edge Justin Wilson by 3.065 seconds in Mexico's Grand Prix of Monterrey.
Bourdais and Wilson went at each other all afternoon during a virtually crash-free race despite slippery conditions on the asphalt. The 2.104-mile Parque Fundidora road course curves around a rusty, long-closed steel mill in Mexico's third-largest city.
"I think we really gave each other a run for our money," Bourdais said. "Nobody could lay back or anything. It was running flat out the whole time."
The heat was a factor during Sunday's 76 laps, with temperatures at 97 degrees at the start. On the track, they climbed to 125 degrees. Wilson headed to the medical tent after the checkered flag, suffering from mild dehydration.
Californian A.J. Allmendinger, Wilson's RuSport teammate, was third, 14.132 seconds off the lead. He was followed by Canadians Paul Tracy, 47.222 seconds behind Bourdais, and Alex Tagliani, whose time of 1:40:.48.030 was nearly 58 seconds slower than the winner.
Bourdais who won Champ Car races last week in Houston and at Long Beach on April 9, started first after posting the top time at Saturday's qualifying session, becoming the first driver since Randy Mears between 1988 and 1991 to win four straight poles at the same event.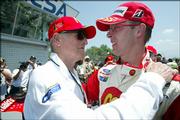 He has never started anywhere but up front since first coming to Monterrey in 2003. He last won on this course in 2004.
Bourdais held his lead for the first 23 laps Sunday. But Wilson's crew was quicker when both cars pitted during a caution because of debris on the course, and the Briton moved into first place by three lengths.
"I really thought we had things under control. But then we got out of our box and I saw we were second and from there on I knew it was going to be a tough race," Bourdais said.
Mario Dominguez, who came to Monterrey second behind Bourdais in the Champ Car points standings, was the only Mexican competing. He was sixth, 58.782 seconds off the lead.
Copyright 2018 The Associated Press. All rights reserved. This material may not be published, broadcast, rewritten or redistributed. We strive to uphold our values for every story published.