Kennett Square, Pa. — Barbaro underwent more than five hours of surgery Sunday to repair rear leg bones he'd broken in the Preakness, calmly awoke from anesthesia and "practically jogged back to his stall" for something to eat.
His survival, however, is still 50-50.
Despite Barbaro's huge first step on the road to recovery, Dr. Dean Richardson said the Kentucky Derby winner's fate still came down to "a coin toss."
"Right now he's very happy," Richardson said after the surgery at the University of Pennsylvania's New Bolton Center for Large Animals. "He's eating, he's doing very good. But I've been doing this too long to know that day one is the end of things."
The strapping 3-year-old colt sustained "life-threatening injuries" Saturday when he broke bones above and below his right rear ankle at the start of the Preakness Stakes. His surgery began around 1 p.m. Sunday, and it wasn't until some eight hours later that Richardson and trainer Michael Matz emerged to announce that all had gone well.
"From the last time I saw him to now was a big relief," said a visibly fatigued Matz. "They did an excellent job. It's just an amazing thing to see him walk in like that.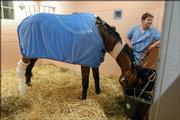 "I feel much more comfortable now. I feel at least he has a chance."
Unbeaten and a serious contender for the Triple Crown, Barbaro broke down Saturday only a few hundred yards into the 1 3-16-mile Preakness in Baltimore. The record crowd of 118,402 watched in shock as Barbaro veered sideways, his right leg flaring out grotesquely. Jockey Edgar Prado pulled the powerful colt to a halt, jumped off and awaited medical assistance.
Barbaro sustained a broken cannon bone above the ankle, a broken sesamoid bone behind the ankle and a broken long pastern bone below the ankle. The fetlock joint - the ankle - was dislocated.
Richardson said the pastern bone was shattered in "20-plus pieces."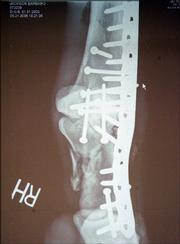 The bones were put in place to fuse the joint by inserting a plate and 23 screws to repair damage so severe that most horses would not be able to survive it.
When he came out of surgery, Barbaro was lifted by sling and placed on a raft in a pool so he could calmly awake from the anesthetic.
Richardson said the horse "practically jogged back to his stall" and was wearing a cast from just below the hock to the hoof.
"He's a real genuine athlete, there's no doubt about it," Richardson said. "Even the way he woke up from anesthesia, he was very much the athlete waking up from general anesthesia."
Richardson again stressed that Barbaro had many hurdles to clear.
"Horses with this type of injury are very, very susceptible to lots of other problems, including infection at the site," he said.
Copyright 2017 The Associated Press. All rights reserved. This material may not be published, broadcast, rewritten or redistributed. We strive to uphold our values for every story published.