Most Lawrencians are familiar with William Quantrill's murderous raid on abolitionist Lawrence in 1863.
Not so well-known is that infamous raid was the second - not the first - sacking of Lawrence.
"The first sacking was on May 21, 1856 - 150 years ago," said Lawrence historian Karl Gridley.
The sesquicentennial coincides with graduation weekend and will not be the subject of a ceremony. "I don't know that it should be commemorated," Gridley said. "But it ought to be acknowledged."
The attack was led by Sheriff Sam Jones and militia leader David Rice Atchison, both pro-slavery Missourians.
"A lot of things were going on," Gridley said. "Some warrants for Free State men hadn't been carried out and someone had taken a shot at Jones when he was camped outside of town. He was sure it was someone from Lawrence."
It wasn't the Missourians' finest hour.
"Supposedly, Atchison had been drinking and had trouble aiming the cannon," Gridley said.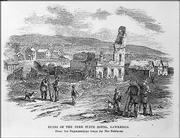 The errant cannonballs, he said, sailed over the then-Free State Hotel and were later found in what's now Old West Lawrence.
"After that, they decided to burn it down instead," Gridley said.
The raid resulted in one casualty: "A brick fell from the Free State Hotel and hit one of the Missourians in the head," Gridley explained.
The Free State Hotel later became the Eldrige Hotel, 701 Mass.
Joined by the Palmetto Guards, a pro-slavery militia from South Carolina, the ruffians also trashed the town's two newspapers: Kansas Free State and Herald of Freedom.
"They smashed the presses and dumped the type in the Kansas River," Gridley said.
The sacking marked the first time the Missourians had tried to muzzle the abolitionist press and enforce pro-slavery laws.
It also set the stage for the bloody, John Brown-led Pottawatomie Massacre on May 24-25, 1856.
Brown and six followers were racing toward Lawrence when they learned the sacking was complete. Seeking revenge, they brutally executed five pro-slavery settlers after pulling them from their cabins along Pottawatomie Creek near Lane, Kan.
The Pottawatomie Massacre, in turn, led to the Battle of Black Jack, which will be commemorated June 2-3 at the battle site three miles east of Baldwin.
Ten weeks later, Free State forces attacked Fort Titus, a pro-slavery fort south of Lecompton.
"Some of the Free State had gone to the river and collected the type and made it into cannon balls," Gridley said. "When they fired the cannon at Fort Titus, they shouted 'Here comes another edition of the Herald of Freedom.'"
The Herald of Freedom later became the Journal-World.
Copyright 2018 The Lawrence Journal-World. All rights reserved. This material may not be published, broadcast, rewritten or redistributed. We strive to uphold our values for every story published.