Mujahid Hassaballa's post-graduation plans are a little different from his peers': Go to college, maybe run track, get an engineering degree - then rebuild his country.
"After my education, my plan is to go and help, as best I can, over there," said Mujahid, a 19-year-old Sudanese native who graduates today from Free State High School. He is one of nearly 400 FSHS seniors graduating at noon today at Haskell Stadium.
Mujahid had to leave Sudan to ensure he'll get the education he'll need to help his war-torn nation.
As civil war raged in the country during the 1990s between the Muslim north and the Christian and Animist south, government forces routinely picked up young men from the streets of Khartoum, where the family lived, and pressed them directly into military service.
"Sometimes they draft high school boys, junior high, put them in the plane" and send them off to fight, said Mujahid's dad, Hassaballa Hassaballa.
"Basically, your family doesn't know where you've gone," said Mujahid, 19. "No permission, no nothing."
Instead, the elder Hassaballa came to the United States - where he'd earned a doctorate in anthropology - in 1994, and brought the rest of his family over in subsequent years.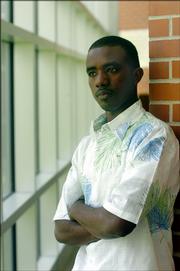 "He doesn't want me or the family to suffer because of what the government is doing," said Mujahid who came to the United States when he was 12 and for whom English is a second language.
The civil war ended in 2005, but a separate Sudanese conflict broke out in that country's Darfur region. Still, Sudan is very much on Mujahid's mind as he graduates today.
There's a whole generation of young Sudanese men lost to fighting and fleeing; Mujahid said it's his responsibility to help fill the gap.
"So many people ent into the military and just died," he said.
The Hassaballa family lived in Seattle for several years, before arriving in Lawrence - cheaper living - for the 2004-2005 school year. By the time he got here, Mujahid was an avid runner, joining Free State's track team.
"When I was in Washington, my junior high teacher saw I had potential in running," Mujahid said. "I could barely speak English, but I could run."
Free State counselor Joel Frederick said Mujahid has been a "hard worker, good student, good citizen. He's got a really nice family."
Hassaballa Hassaballa supports his son's ambitions to return to Sudan; he hopes to join the young man.
"All of us are probably going to go back," the older man said. "People are hoping there will be peace. ... They need help."
Mujahid agreed.
"Honestly, that's the stuff I think about," he said. "All I have is the desire and will to make a change."
High School Graduation 2006
More about local high school graduations
Free State High School
Lawrence High School
All schools
Copyright 2018 The Lawrence Journal-World. All rights reserved. This material may not be published, broadcast, rewritten or redistributed. We strive to uphold our values for every story published.