Chicago — Michael Barrett was waiting for the ball when A.J. Pierzynski ran him over. Barrett's reaction? He got up and punched the White Sox catcher in the jaw, setting off a melee between Chicago's two baseball teams.
"I don't know how to say it. I mean, when you hit another grown man, it's never right, you know?" the Cubs' Barrett said Saturday after the White Sox won, 7-0, behind two homers and six RBIs from Tadahito Iguchi.
Barrett said Pierzynski had every right to run into him, but added that the White Sox catcher - who always seems to be in the middle of wild plays - got up and nudged him after the collision, instead of heading toward his dugout.
Pierzynski, who slapped the plate emphatically, said he was trying to pick up his helmet that had been knocked off when the two catchers collided.
"I got sucker-punched," Pierzynski said.
"He grabbed me and said, 'I didn't have the ball,' and then he punched me. ... I was trying to pick up my helmet. I tried to take a step around him, and he grabbed me. I thought he was going to say, 'Hey, are you OK?' And I was going to say the same thing."
"I expect to be disciplined, that's part of the price," Barrett said.
Interleague
Rangers 6, Astros 0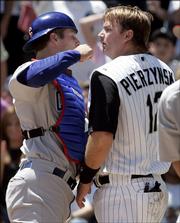 Houston - Kevin Millwood pitched seven sharp innings.
Yankees 5, Mets 4, 11 innings
New York - Johnny Damon hustled to beat a double-play relay that capped a four-run rally in the ninth inning.
Twins 16, Brewers 10
Milwaukee - Michael Cuddyer drove in a career-high five runs, and Joe Mauer had four RBIs to lead Minnesota.
Rockies 5, Blue Jays 1
Denver - Jeff Francis took a no-hitter into the sixth inning, and Brad Hawpe tripled home two runs to spoil Ty Taubenheim's major-league debut.
Tigers 7, Reds 6, 10 innings
Detroit - Felipe Lopez's throwing error allowed Carlos Guillen to score the winning run in the 10th inning.
Nationals 8, Orioles 3
Washington - Alfonso Soriano homered for the third straight game.
Devil Rays 4, Marlins 3
St. Petersburg, Fla. - Russell Branyan hit a two-run homer with two outs in the ninth inning.
Red Sox 8, Phillies 4
Philadelphia - Josh Beckett hit a solo homer and an RBI single and pitched seven solid innings. He became the first Sox pitcher to go deep since Marty Pattin on Sept. 26, 1972.
Pirates 9, Indians 6
Cleveland - Jason Bay homered twice and drove in four runs.
Giants 4, Athletics 2, 10 inn.
Oakland, Calif. - Barry Bonds hit his 714th career homer.
Dodgers 8, Angels 4
Los Angeles - Pinch-hitter J.D. Drew's 150th career homer leading off the seventh drove in the go-ahead run for the streaking Dodgers.
Mariners 6, Padres 3
Seattle - Gil Meche pitched a season-high 72â3 innings, and Kenji Johjima hit his second homer in as many games.
National League
Diamondbacks 13, Braves 0
Phoenix - Brandon Webb threw a four-hitter to lead Arizona past Atlanta.
Copyright 2018 The Associated Press. All rights reserved. This material may not be published, broadcast, rewritten or redistributed. We strive to uphold our values for every story published.