A popular craft today is making sand pictures in a bottle. It was a form of artwork in the 19th century. One of the most famous sand artists was Andrew Clemens (1857-1894), who arranged natural-color sands from Iowa in attractive bottles. He could neither speak nor hear, but he was dedicated to his sand art. Clemens made intricate designs like boats, flowers, flags, eagles, geometric borders and even a customer's name with sand he just packed into place - he never used glue. He even filled a 12-inch bottle with a portrait of George Washington on horseback. His bottles cost from $5 to $7, a lot of money in those days. Although he made many bottles, few have survived.
Q: I need information on a Macy's Furniture Co. roll-top desk. I understand the company manufactured high-quality office furniture and that its factory was in Ohio. I know it's not affiliated with the Macy's department stores.
A: Some cabinetmakers named Macy worked in Cincinnati around 1820, but the roll-top desk you're talking about was most likely made by the Fred Macey Furniture Co. of Grand Rapids, Mich. Fred Macey, who sold mail-order roll-top desks for several manufacturers, opened his own factory in 1896. Macey's company made roll-top desks, sectional bookcases, filing cabinets, library tables, swivel chairs, music cabinets, chairs and even couches. Fred Macey Furniture Co. merged with Wernicke Furniture Co. in 1905 to form Macey-Wernicke Co., but the corporate name was simplified to Macey Co. in 1908. The company went out of business in 1940.
Q: We'd like to know the value of a picture frame made of hundreds of hand-carved pieces of wood assembled with no glue. In the frame there's a hand-tinted photograph of a woman with the date March 30, 1882, on the back.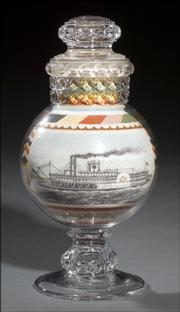 A: Your frame is a piece of "tramp art." The term usually refers to notch-carved and pyramided wooden carvings - a style popular from the 1870s to the 1940s. The woodworking technique used to make your frame involves interlocking wooden sticks notched to join together at right angles. The technique is called "crown of thorns," "puzzle work," "sailor work" or "interlocking woodwork." A lot of time and patience went into making your frame. It could date from the 1880s. Its value depends on its size, age, workmanship and condition. It might be worth hundreds of dollars.
Q: When I was 11 or 12 years old - 60 years ago - I was given a General Electric children's record player. It's a red teardrop-shaped record player decorated with color pictures of nursery-rhyme characters. The turntable still works, and when the record player is plugged in, it can play old 78 rpm records. It's 12 1/2 inches long, and the label on the bottom reads: "General Electric electronic toy record player, Model 186-1, Syracuse, N.Y." What is it worth today?
A: We've seen your record player for sale for $30 up to $125. General Electric made several children's record players like it during the 1940s and '50s. Model 186-3 dates from 1950, so your Model 186-1 probably dates from just after World War II. During the decade after that, children's 78 rpm records were at their peak of popularity.
Q: My uncle bought a 9 1/2-inch ceramic pitcher at a yard sale in the 1970s. It's in the shape of a woman's head. Her face is finely detailed, and her hair curls all around it. The handle is an extension of her hair. The pitcher is flesh-colored, but the hair and face are highlighted in light green. The mark is a crown above a nine-pointed star surrounding the letter R. Can you identify the maker?
A: The mark on your pitcher was used by Schafer & Vater, a porcelain factory that operated in Rudolstadt, Germany, from about 1896 until 1962. The company was best-known for humorous figurines, match holders, flasks and pitchers - in good taste and bad. But some items, like yours, were purely decorative.
Q: I have a box of 24 Walt Disney Soaky soap bars I bought in the 1950s. My children never opened the box, so the individually wrapped bars are still inside. The front of the box pictures Mickey Mouse washing his hands at a bathroom sink. The back pictures three bars of soap and explains that kids can cut out the characters pictured on the wrappers and paste them on a color picture that's inside the box. The box is labeled "Walt Disney Productions" and "Colgate-Palmolive." Would a collector want something like this?
A: Disney collectors want anything and everything made to promote the company's characters. Your box of Soaky soap bars dates from about 1953. That's the year Colgate-Palmolive-Peet Co. became Colgate-Palmolive Co. Within a few years of making Soaky bar soap, Colgate introduced the now better-known line of Soaky figural-character liquid-soap bottles. Because your box of soap is in near-mint condition, it could sell for about $100.
Current prices
Current prices are recorded from antiques shows, flea markets, sales and auctions throughout the United States. Prices vary in different locations because of local economic conditions. ¢ "Touring Card" game, Parker Bros., box, 1958, $15. ¢ Socony Motor Oil bottle, embossed, tin spout marked March 3, 1925, quart, $60. ¢ Skipper School Girl doll, jacket, sleeveless shirt, pleated skirt, carrying books, 1965, No. 1921, $240. ¢ Mechanical bank, two frogs, place coin on small frog's leg, pull lever, he kicks coin into large frog's mouth, patented 1882, J. & E. Stevens, 9 inches, $630. ¢ Durand glass vase, purple and gold, urn shape, white swirls, marked, c. 1925, 6 3/4 inches, $910.
Copyright 2018 The Lawrence Journal-World. All rights reserved. This material may not be published, broadcast, rewritten or redistributed. We strive to uphold our values for every story published.