New Orleans — Mayor Ray Nagin, whose shoot-from-the-hip style was both praised and scorned after Hurricane Katrina, narrowly won re-election over Lt. Gov. Mitch Landrieu on Saturday in the race to oversee one of the biggest rebuilding projects in U.S. history.
"We are ready to take off. We have citizens around the country who want to come back to the city of New Orleans, and we're going to get them all back," Nagin said in a joyful victory speech that took on the tone of a Sunday sermon.
"If we are unified, there is nothing we cannot do," he said. "It's time for us to stop the bickering. It's time for us to stop measuring things in black and white and yellow and Asian. It's time for us to be one New Orleans."
With all 442 precincts reporting, Nagin won with 52.3 percent, or 59,460 votes, to Landrieu's 47.7 percent, or 54,131 votes. Results showed Nagin received votes he needed from scattered black residents across the country who voted by fax and absentee ballots, and received a sizable crossover vote from white districts.
Nagin, a former cable television executive first elected to public office in 2002, had argued the city could ill afford to change course just as rebuilding gathered steam.
With little disagreement on the major issues - the right of residents to rebuild in all areas and the urgent need for federal aid for recovery and top-notch levees - the race came down to a referendum on leadership styles.
In conceding the race, Landrieu echoed the theme of his campaign - a call for unity.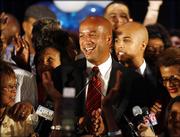 "One thing is for sure - that we as a people have got to come together so we can speak with one voice and one purpose," he said. "Join with me in supporting Mayor Nagin."
Fewer than half of New Orleans' 455,000 pre-Katrina residents are living in the city, and a large number of blacks scattered by the storm have yet to return.
Turnout appeared to be on par with the April 22 primary, when about 37 percent of eligible voters cast ballots.
Results from Louisiana's Secretary of State's Office showed Nagin carrying majority black precincts and Landrieu winning in majority white ones. But Nagin pulled a significant crossover vote in some heavily populated predominantly white precincts in Uptown New Orleans.
Copyright 2018 The Associated Press. All rights reserved. This material may not be published, broadcast, rewritten or redistributed. We strive to uphold our values for every story published.