Kansas University's Gus Milner admits he's no statistician when it comes to the Jayhawks' NCAA Tournament chances.
"RPIs, strength of schedule : I don't know all that fancy scientific stuff," Milner said.
No matter. What the senior does know is how to compete, and that was important in KU's 6-2 Big 12 Conference baseball victory over Texas A&M; on Saturday at Hoglund Ballpark.
After dislocating a pinky in the top of the seventh inning, Milner stayed in the game and sparked the Kansas offense when it needed him the most.
With KU clinging to a 3-2 lead in the seventh, Milner made his mark on the basepaths.
Standing on second with two outs, he kept his head up when advancing on a Jordan Chambless wild pitch.
"I saw the catcher not hustling that hard - kind of lackadaisical," Milner said, "so I just tried to manufacture another run."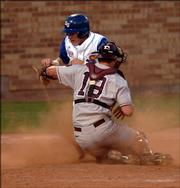 With the ball still at the backstop, Milner never hesitated. He made a mad dash to the plate, sliding in safely with an insurance run.
It proved to be valuable for closer Don Czyz in the eighth.
After Paul Smyth allowed consecutive singles, Czyz was asked to clean up a mess once again with A&M;'s Nos. 3, 4 and 5 hitters due up.
"I never look at who's coming up in the order. That's not my deal," Czyz said. "I just attack the hitters the same way I always do."
The heart of the Aggie order gained a combined two feet against the Kansas closer. Czyz struck out Kyle Colligan and Ryan Hill and then retired Jake Vazquez on a tap in front of the plate.
"He's the most competitive guy I've ever coached with a baseball in his hands," Kansas coach Ritch Price said of Czyz.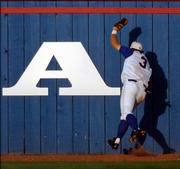 Matt Baty and Ritchie Price contributed RBI singles in the ninth, and Czyz finished it off by punching out Jess Buenger for his NCAA-leading 17th save.
It wasn't always smooth sailing for the Kansas offense.
After mustering two hits Friday, the Jayhawks struggled in the early innings Saturday against both Kyle Nicholson and a wide strike zone.
"It seems like they're on fire this weekend," Milner said of A&M;'s pitchers. "They're cutting up corners - knee-high, ankle-high. They're just getting strikes everywhere."
Milner changed the tide for Kansas in the sixth.
With two outs and the Jayhawks trailing 2-0, Milner lined a double down the left-field line. He scored after Erik Morrison's grounder was thrown away by Jose Salazar.
KU's Ryne Price was later hit by a pitch to force in a run and knot the score at 2.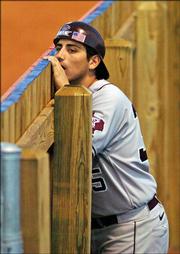 Milner's injury came after slipping on the outfield grass in the top of the seventh. He immediately sprinted off the field, and the dislodged digit was put back in place by a trainer.
"I was thinking about doing it myself," Milner said, "but then I was like, 'I don't think I want to do that.'"
The Jayhawks also could thank Sean Land for keeping them in it early. The lefty gave one of his best conference performances of the year, allowing just three hits and two runs in six innings.
"For me it was the highlight of the night," Ritch Price said, "just to see him go out and pitch like he's capable of pitching."
Land recently returned to the weekend rotation after his Big 12 earned-run average ballooned to 8.90.
Morrison and John Allman added a pair of hits each.
Kansas will look for its first Big 12 sweep in today's 1 p.m. regular-season finale.
Copyright 2018 The Lawrence Journal-World. All rights reserved. This material may not be published, broadcast, rewritten or redistributed. We strive to uphold our values for every story published.