Provo, Utah — Coming into Saturday's regional final, Kansas University softball coach Tracy Bunge knew her team was going to have to find a way to stifle the Washington offense.
For six innings, Kansas pitcher Kassie Humphreys did just that.
Locked in a scoreless tie through six innings, No. 14 Washington exploded for three runs in the seventh off Humphreys to beat KU, 3-0, Saturday in the Provo Regional Final at Gail Miller Field.
"We had a pretty good tournament and scored some runs," Washington coach Heather Tarr said. "Kassie Humphreys is a great pitcher. She has had a great tournament and a great few weeks. We knew we were going to face her today, and our hitters had to make some adjustments in figuring out how to approach her. We did a pretty good job of executing that."
KU ended its season with a 36-26 record. Washington improved to 35-23.
"I am extremely proud of my team," an emotional Bunge said. "We were picked to finish seventh in the Big 12, and we weren't a team people talked about. This is the most fun I have had coaching in a long time. This team pushed myself and the staff to be better. My team got along with each other. This is going to be a team I talk about for a long time."
Photo Gallery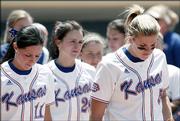 KU softball vs. Washington
Humphreys, Destiny Frankenstein and Heather Stanley all made the Provo Regional All-Tournament team.
Despite getting solid pitching and defense all tournament, the Jayhawks fell short offensively as they were held to two hits in the loss.
Husky pitcher and regional MVP Danielle Lawrie tossed a complete game while striking out 13 batters. The Washington ace struck out 29 batters in three games.
"She threw fantastic in the two games against us," Bunge said. "She definitely proved why she is one of the best pitchers in the Pac-10."
Humphreys allowed eight hits and struck out five.
Provo Regional All-Tournament team
MVP: Danielle Lawrie, P, Washington Kassie Humphreys, P, Kansas Dominique Lastrapes, 2B, Washington Ashlyn Watson, DP, Washington Aimee Minor, CF, Washington Heather Stanley, RF, Kansas Ashlyn Russell, DP, BYU Kortney Hall, C, SUU Emi Snow, CF, BYU Destiny Frankenstein, SS, BYU
With the score knotted at 0 going into the final inning, it looked as if Humphreys's magic were going to continue.
Instead, Washington made a few adjustments and was able to place its first four batters on base. Lauren Greer started the inning with a single and was moved to second after Dominique Lastrapes walked. Ashley Charters then drilled a double to left-center that scored Greer.
Aimee Minor singled home Charters, and Minor later scored on a sacrifice by Brooke Woodward.
KU's attempt to keep its season alive in the bottom of the seventh was short-lived. With one out, Destiny Frankenstein walked. But Lawrie ended the game by striking out Jessica Moppin and forcing Heather Stanley to pop out to the pitcher.
"I still felt pretty good going into the fifth, sixth and seventh innings," Bunge said. "I still felt like we had a shot. Our team has been in so many close ballgames. We didn't do anything to lose this game. Washington came out and won it."
Kansas now hopes to build on its success it had this year, especially late in the season.
"I am hoping the underclassmen take from this year's season is the mental toughness," Bunge said. "The kids understand the type of work ethic it takes to get here and want to come back. That is the legacy left by our upperclassmen."
Copyright 2018 The Lawrence Journal-World. All rights reserved. This material may not be published, broadcast, rewritten or redistributed. We strive to uphold our values for every story published.