Indianapolis — Sam Hornish Jr. came up a bit short on his prediction, but not his speed.
The fastest driver at the Indianapolis Motor Speedway for most of the month did not disappoint Saturday, driving away with the pole position for the May 28 Indianapolis 500.
After running a lap at 229.996 mph in the morning warmup - by far the fastest lap since practice began nearly two weeks ago - Hornish came back less than two hours later and proved it was no fluke with two more laps over 229 on the way to a four-lap qualifying average of 228.985.
"This car is about as perfect as I've ever had," Hornish said. "I was really about 99 percent happy with it."
Hornish, who has failed to finish the big race in each of his six previous starts, said he told his Marlboro Team Penske crew Thursday night he would qualify at 229.
"I made myself look bad to them because I didn't quite get there," he said, grinning.
It didn't matter. None of the other 31 drivers who qualified Saturday could come close to knocking Hornish off the top spot.
His big day gave team owner Roger Penske his 13th Indy pole, matching the record number of wins for the elite team.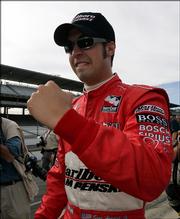 Hornish, a two-time IRL IndyCar Series champion, would like nothing better than to join the nine drivers who have won here for Penske and finally end his own Indy jinx that has seen him crash three times and fail to finish more than 196 of the 200 race laps.
Defending Indy champion Dan Wheldon, the only driver able to beat Hornish for a day's fast lap this month, couldn't come close to Hornish's Saturday effort.
Wheldon posted a solid run with four consistent laps over 227, but his average of 227.338 was far short of what he'd hoped for, placing him tentatively on the outside of the front row of three.
Two-time Indy winner Helio Castroneves was the only driver able to even approach teammate Hornish's performance. The Brazilian started with a lap of 227.741 before ticking off three straight trips around the 2.5-mile oval above 228 for an average of 228.008.
That run placed him in the middle of the front row, but it was still nearly a full mile an hour slower than Hornish.
Scott Dixon, Wheldon's Target Chip Ganassi teammate, was fourth fastest at 226.921, followed by Tony Kanaan, last year's pole-winner, at 226.776 and 2005 race runner-up Vitor Meira at 226.156. Danica Patrick had an average of 224.674 and the inside of the fourth row.
Copyright 2018 The Associated Press. All rights reserved. This material may not be published, broadcast, rewritten or redistributed. We strive to uphold our values for every story published.