Randy Towner, dean of Lawrence's golf club golf professionals, hit close to his best drive and I hit close to mine, which meant he was about 60 yards past me on the 16th fairway at Alvamar Country Club. It also meant he was twice as happy as I was.
"For about the last 10 years, I've gotten more pleasure out of seeing you do that than out of watching my own shot," Towner told me.
He has played rounds of golf with Tom Watson, Arnold Palmer, close friend Roy Williams and countless other big names. Towner once shot a 63 from the green tees at Alvamar Country Club. He has won at least one pro-am in four different decades.
Yet, it's the plaque that hangs on the wall of his office that makes him most proud. It reveals Top Flight and Spalding named him national golf teacher of the year in 1995.
"Like they say, 'Give a man a fish and you feed him for a day. Teach him how to fish and you feed him for life,'" said Towner, explaining his attraction to teaching.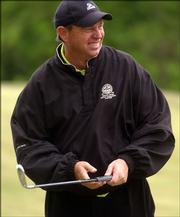 Several months ago, Towner, who is in his 18th year at Alvamar, offered to do an extreme makeover of my swing. The more he thought about it, the more the original plan expanded. He invited about 25 men he referred to as "pillars of the community," plus 6News sports director Kevin Romary and me, to a two-day golf boot camp at Alvamar. Two hours one day, two the next.
The big turnout, Towner said, illustrated the power of golf.
"Other than if you gave them tickets to a KU basketball game, where else could you get all these men to show up in the same place?" he asked. "If they play better golf, it can't hurt golf in the community."
Towner's assistant Zack Singleton, Alvamar Golf Course pro Alex Eichman, Jon Zylstra of Lawrence Country Club, and KU golf coach Ross Randall joined Towner in putting on a clinic.
The golfers lined up at tee spots on the practice range, listened to demonstrations, then were given pointers as they tried to mimic the swings of the pros.
Mark Buhler, vice president of Stephens Real Estate, turned to me at one point and said, "You know what tip I really found helpful : "
He didn't have to finish because I knew what he was going to say. A light went on in the heads of many golfers in need of correcting swing paths that resulted in slices when Towner suggested they pretend they were quarterbacks pitching to the tailback, a motion that forced us to take the club back on an inside path.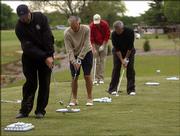 "The biggest thing I learned was we all overthink the game," said KU men's basketball coach Bill Self, who could not make the second day of boot camp. "These guys who are real good players make it simple. They have very few thoughts during the swing. We overthink it, instead of following a few key concepts."
Such as from a sand bunker: Instead of using a gradual backswing as with a normal shot, pick the club up more like a helicopter takeoff than an airplane takeoff, bring it down the same way, hit about an inch-and-a-half behind the ball and finish high. Picture the letter V and that's your swing path.
Notice the use of the word bunker.
Tip
By Randy Towner
The reason you slice the ball is you are taking the club on an outside-to-inside swing path. To hit the ball straighter and longer, you'll need to take it on an inside-to-outside swing path. To get yourself doing that, imagine you're a quarterback and you've just taken a snap from center. The play calls for you to pitch the ball to the tailback. To make this pitch, you must turn your back to the snapper and extend your arms. Bring the club down on the same path you brought it back. This move helps you to create a coil and store energy for longer and straighter shots.
- Tipster Randy Towner is the head pro at Alvamar Country Club
"Nowhere in the rule book can you find the word trap," said Towner, who tries to remove his pupil's negative vibes. "And when you go in the water, it's not a penalty stroke, it's a blessing. Can you imagine how tough it would be if you had to hit the shot from the water?"
At the beginning of boot camp, stressed-out, tentative expressions were abundant. At the end, excited, confident looks were the norm.
"History tells me you will hit some better shots than you've ever hit before, but your score won't be a lot better initially because there's such a huge trust factor," Towner said to prepare me for not expecting to be ready for the tour after a two-day boot camp. "And going from a range to a place that's got stuff in the way, visually, it's easy to hit a straight shot when there are not trees right, and trees left. We have a tendency to think 'Don't go in the trees.'"
During boot camp, Towner urged golfers to spend more time on the practice range.
Words of wisdom
"If profanity had an influence on the flight of the ball, the game of golf would be played far better than it is." - Horace G. Hutchinson
"You are all good at what you do because you work hard at it," he said. "Why would anyone think golf should be any different?"
Towner's one of the fortunate few who has been able to make a living at the game that alternately bewitches and disheartens most golfers.
"I knew right after I got over wanting to be a fireman or a cowboy that I wanted to be a golf pro," Towner said. "I just knew that's what I wanted to do. I enjoy playing golf. I enjoy being around people. I enjoy the thrill of teaching."
This week in golf:
Hole
No. 15, Alvamar Country Club
Par: 3. Yards: 183 (championship tee)
To appreciate fully this beautiful hole played from an elevated tee box, follow these three steps: 1. Close your eyes and take in the sounds of nature. 2. Pretend the water in front of and behind the green is grass. Be confident. Don't use an old ball for fear it is about to go for a swim. 3. Have an extra ball or two in your pocket just in case. The hole is 150 yards from the green tee, and the tendency is to jerk your head up to make sure the ball is not headed for the water, which of course doesn't help.
Copyright 2018 The Lawrence Journal-World. All rights reserved. This material may not be published, broadcast, rewritten or redistributed. We strive to uphold our values for every story published.